Black and White Baby Nursery Ideas and Pictures
We have a few black and white baby nursery ideas that will go a long way towards adding style and sophistication to your baby's room. I thought that I would make a list of black and white nursery themes and make it easy to find nursery pictures where you can pick up some inspiration and develope your own personalized decorating ideas.






The key to getting that "professionally decorated" look for your little one's room is to include unique items that were perhaps made by yourself or a loved one.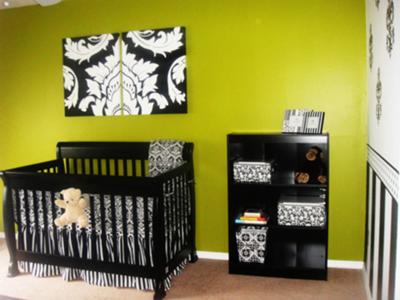 Black and White Damask Nursery Bedding
and
Decorating Ideas for a Baby Girl
Artwork for the nursery wall inspired by a design or color combination featured in the crib set is an excellent way to give your baby girl's room a "one of a kind" look.
Black and White Baby Mobile

NEW! Black and White Baby Bedding



And just so you aren't taking a little guilt trip over decorating in such a modern design rather than a more traditional style of decor, remember that one of the first color combinations (more like contrasts, really) that babies can only see in the first few months is...you guessed it, black and white! So, you might as well save the cute themes with less visible colors for a nursery makeover in the future.




SEE MORE HERE


More Black and White Nursery Decorating Ideas

Black and White Toile Baby Bedding

Black and White Baby Shower Ideas

Modern Black and White Nursery Bedding


SHARE IDEAS - PICTURES of BLACK and WHITE NURSERY DECOR
Do you have a great set of baby bedding or a picture of a nursery that you decorated in a black and white color scheme? Share it!
BLACK and WHITE NURSERY PICTURES, IDEAS and SUGGESTIONS from our FRIENDS
Click below to see contributions from other visitors to this page...

Make plans to visit our website often to find the latest in black and white baby nursery ideas, nursery themes, baby bedding and room decorations.