High Contrast Black and White Crib Mobile Ideas for the Baby's Nursery
The benefit of a black and white crib mobile is not only to entertain your baby and break the monotony of a boring view of the nursery ceiling while restricted to lying on his or her little back in the bed. Nor is the function of crib mobiles in black and white to provide another point of interest in the room's decor.



Visitors Shopping for Black and White Baby Mobiles Also Enjoyed these Pages:

Black and White Nursery Bedding

Black and White Nursery Decor

Pink, Black and White Nursery Ideas



It's true that the manufacturer of the cute crib bedding set that you fell in love with that was constructed of black and white print fabric probably offers a decorative baby mobile as part of the accessories included or offered in addition to the collection.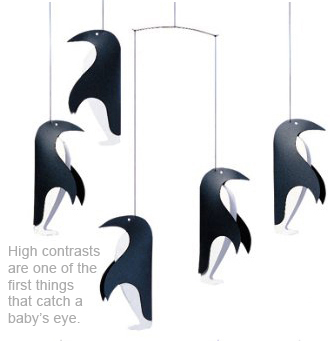 Go here to see more
high contrast mobiles with black and white decorations in shapes that your baby can see very early.


The value of dancing shapes twirling over your baby's head in time to the musical feature of the mobile lies in the fact that the high contrast patterns will be one of the first visual experiences that your newborn enjoys. If you are of the mind that the educational process should begin immediately; a black and white baby mobile may be exactly what you need.


New moms and dads who have done their research may choose a less colorful mobile rather. The reason that they decide against the traditional styles that come with most crib sets is that research indicates that newborns see contrasts before they see colors.
It has been reported that newborns start to notice certain colors like green, yellow, red and orange at approximately two months of age and quickly afterwards begin to see shades of blue. But many find that babies are attracted to high contrasts of dark and light over even the most brightly colored baby mobiles. In addition they seem to notice patterns with curved lines which makes an excellent case for buying zebra baby bedding with hot pink accents for a baby girl nursery or a zebra crib set for a baby boy nursery decorated in one of the popular jungle designs.


There are many popular themes that work well with a black and white crib mobile. Here are some suggestions:
Moon and stars theme – It would be very easy to make a homemade mobile using a quarter moon and star pattern using black and white fabric.
Penguins and polar bears
Black and white baby bedding made from black and white gingham, black toile or plaid fabrics are classic choices that will provide a visually stimulating contrast
Visit Unique Baby Gear Ideas to see the latest in crib mobiles and to find more information on nursery designs stimulate an infant's developing eyesight.