ETHAN'S ALL WHITE NURSERY
by Daniel
Baby Ethan is right at home in his all white nursery since his arrival on June 16th.

We chose an all white nursery because we didn't know before baby Ethan arrived if we were having a boy or a girl and his mother and I felt that white was a safe bet, a good gender neutral color.




Go Here to See More
Although many of our friends have commented on how clean and modern our baby boy's nursery design is, others have remarked on how bold we are to be decorating in solid white.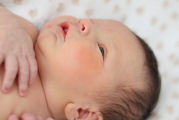 Many of them were amazed at out decision to use white baby bedding in light of the fact that we are very busy people that avoid high maintenance products.



We have been very pleased with the white baby bed that you see in the pictures. It is the white finish option of the Lollipop crib from AP Industries which comes in several shades of white including Weathered White, Cottage White and several off white or ivory colors called Sand Dune and Saffron. FYI If you are interested in purchasing the model that we used in Ethan's all white nursery, you should know that it is only available by special delivery and takes 4 to 6 weeks to deliver. So, order early unless you have a portable crib for your baby that you can use until your permanent crib is delivered!

From the webmaster:

There are lots of parents who will appreciate these modern baby nursery ideas and will especially appreciate your tips on ordering the white crib that you bought!

If you would like to see more pictures of this baby boy's white baby nursery, please visit Daniel Flather's photostream.



When you click on links to various merchants on this site and make a purchase, this can result in this site earning a commission. Affiliate programs and affiliations include, but are not limited to, the eBay Partner Network such as the ones to your left on this page and others. Please see our Affiliate Disclosure page for more information. More UBGI:

Rss Feed

|

Facebook

|

Twitter