Sophisticated Baby Nursery in Black, White and Green
by JoHanna
(St. Louis MO Missouri USA)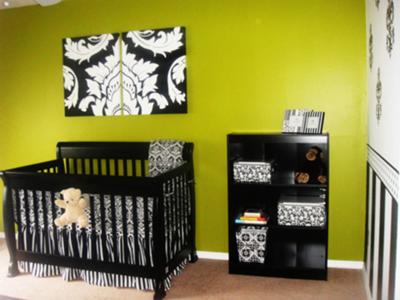 Sophisticated Baby Nursery Design - Black and White Polka Dots, Damask, Stripes and More in a Baby Girl's Dream Room
My daughter's sophisticated baby nursery in black, white and green is a reflection of my love of decorating in high contrasts, especially black and white.


I considered a completely monochromatic nursery design but in my opinion a nursery decorated in black and white alone doesn't make much of an impression.



Other rooms in our home feature furnishings and décor in black, grey and white but I felt that our daughter's room needed to be softened with an accent color, as long as it was something other than pink!
Go Here to See More
After doing some research in decorating magazines I noticed some rooms that used bright green with black and white so that is what I ended up choosing.
Nursery Window Treatments
My dad made the upholstered cornice board and then I finished it by covering it in batting and black and white polka dots upholstery fabric using a staple gun.
Visitors of Unique Baby Gear Ideas want to know about the primary inspiration piece for your sophisticated decor?
AfterI had a basic color scheme in mind, a green,
black and white nursery
. I found the perfect baby bedding set on Amazon and based all of my nursery decorating ideas on the set's fabric color and pattern. The brand name of the lovely sophisticated baby bedding bedding set is Tadpoles and the fabric is black and white damask with polka dot and striped accents.
What was the brand and name of the wall paint color?
I found a Sherwin Williams color called High Strung but had it matched in Behr paint at Home Depot.
How to Paint Wall Stripes and Polka Dots
I painted the black and white stripes and polka dots on the nursery walls by carefully measuring and then using a level to make my lines straight. Painting the black stripes over a solid white wall saved lots of time. After the lines were in place, I didn't use painter's tape to tape them off, I just painted the borders freehand.
In hindsight, taking the quick and easy route and using painter's tape might have been faster.
Painting Polka Dot Wall Border
I drew the dots of the polka dot border using a stencil but found that I got a crisper, cleaner painted outline by hand painting the dots rather than by stenciling.
Sophisticated Baby Nursery Furniture and Decor
I found my baby's dresser for a very affordable price at an unfinished furniture. I finished it myself and painted all of the knobs. The bookcase was ordered from Target online. The crib is from the Baby Mod Cadence collection. I ordered it from Walmart online in the Ebony finish. I was very pleased with the fantastic quality of the bed as well as the great price.
Miscellanous Sophisticated Baby Nursery Wall Decorations and Decor
I found the black and white polka dotted area rug at rugsusa. I bought the elegant, black mirror that is hung over the changing table wholesale from CBK. I have wholesale access to this company through work so I got a nice discount on the retail price. The wall sconces came from Hobby Lobby. I painted the canvases with the large damask pattern myself and found matching damask wall decals online to arrange on the solid white portion of the wall.
Organization and Storage
Most of my baby girl's clothes and necessities are organized in her dresser and the nursery's closet. But I bought some storage baskets to arrange on the shelves of the bookcase from Target and a few decorative boxes from Tuesday Morning that look very nice.
How long did it take to decorate this room?
Everything that I have done so far has taken several months and I am still waiting to have a chair reupholstered in black and white damask fabric. I have plans for this comfortable chair to go under the sconces and to place an attractive floor lamp beside it.
Did you encounter any difficulties or problems with color matches, product availability, etc.?
Not really, but completing the project was very time consuming.
What is your favorite feature out of everything in your daughter's sophisticated baby nursery?
That's easy; the colors are amazing. They are truly what I love most about my little one's finished room. Next would be the overall style. I didn't want the room to be all pink and frilly even though we are having a baby girl. This design will be something that she can grow into.
From the webmaster:
JoHanna, the pictures of your baby girl's nursery are delightful! Thanks so much for sharing your
baby girl's nursery pictures
and for providing such an excellent sewing and crafts tutorial that will be easy for other moms to follow.