Elegant Baby Bedding in Black Toile
One thing about baby bedding in black toileis that never goes out of style. Baby bedding in black and white french toile fabric is easily adapted to many popular nursery themes and decor. And nursery makeovers using black toile fabrics are so quick and easy. You can give the entire bedroom a new look by bringing in new colors to give the black and white or black and ivory toile print a complete makeover.

White and black toile baby bedding looks fabulous in a glossy black baby crib surrounded with black painted baby furniture. You will also find many decorative uses for the fabric in your black and white French toile baby comforter elsewhere in the baby's room. Add an eye-catching accent color and you will have a stylish nursery comparable to professionally decorated baby rooms seen in pictures of those decorated and featured on top designer sites.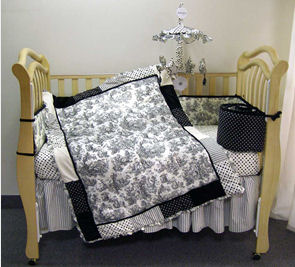 BLACK AND WHITE TOILE NURSERY DECOR

Most of the high end toile crib bedding collections have matching black toile valances and roman shades that will fit most standard size nursery windows. Many of the window treatments are trimmed with pompoms and black grosgrain ribbon that are just precious!
CUSTOM MADE BABY BEDDING in BLACK TOILE FABRICS
There are some children's theme Asian or Oriental toile fabric designs as well as toile prints in classic French themes. If there's not a crib set on the market, don't be afraid to buy a few yards and try making your own bedding set or you can have it custom sewn.
Another way to get a set baby bedding in black toile that's very inexpensive is to buy fat quarters of black toile prints and make a toile patchwork quilt or comforter cover. Mix and match your solid color fabrics and coordinating fabrics in different patterns. Some prints that look stunning when combined with black and white toile fabrics are:
Black and white polka dots print fabric
Black and white stripes
Black and white gingham checks
Baby bedding in black toile fabrics are elegant and slightly formal by nature. The toile fabric with its definite contrasts are very crisp and clean in design and looks fantastic with bright, bold accent colors.
Some vibrant accent colors you might want to consider for use with your black toile baby bedding set would be
HOT pink and Lime Green
Red. A deep shade of Chinese red will be beautiful. Go for the look that you see in pictures of Asian or Oriental baby rooms and bedding sets. Red with black and white toile fabrics is wonderful in a French Country Nursery crib bedding theme, too!
Bright periwinkle blue would work for a baby boy's nursery or even a gender neutral nursery
Electric or neon purple. What a great way to put a funky twist on a traditional French Toile room
Shades of Sunflower yellow with French toile brightens up a room lacking in natural light
MAKING BLACK and WHITE BABY BEDDING MORE MASCULINE

If you are decorating a baby boy's nursery with baby bedding in black toile here are some decorating ideas that will make black and white toile fabrics more masculine. Use accent fabrics in a shade of buff tan. Faux suedes, leathers, velvet and the brown fur of teddy bears are fabrics that will make the toile prints more boyish.
Refer to our list of unique nursery themes that have many more decorating ideas for baby bedding in black toile and other colors.
If you're looking for the latest in NURSERY BEDDING TAKE A LOOK AT OUR ARTICLES FOR A COMPLETE LISTING OF BABY NURSERY DECORATING IDEAS and TRENDY NEW BABY BEDDING COLLECTIONS.