Bed Rest Pregnancy Tips, Gifts and Work Ideas
How to Survive Pregnancy Bed Rest Through Friends and Careful Planning


I have some bed rest pregnancy tips that are different than your usual run-of-the-mill suggestions. The advice on this page is not just to tell the pregnant lady how to survive but to help her spend her time productively and to have a little fun. I also have advice for well-meaning friends who really don't know what to do to help her cope and make this trying time easier.
I can remember the first time a friend in her last trimester was put on complete bed rest. I wanted so badly to do my part to relieve her from the endless hours of lying there ready to murder the next person who kidded her about being on a mini-vacation but I didn't have a clue as to what to do that would be helpful. I have put together the following bed rest pregnancy tips to keep others from feeling so helpless.
I have made it my mission to learn a thing or two about being restricted to the bed or the sofa until it is time to head to the delivery room to share the information with visitors to
Unique Baby Gear Ideas
who are not so lucky.
What Can or Can't You Do on Bed Rest During Pregnancy
Work and activities depend on what type of rest you need for the health of yourself and the baby.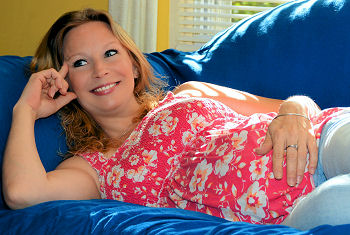 There are several types of rest that may be prescribed. Sometimes sexual abstinence, the avoidance of exercise and remaining in a seated position is prescribed. In other cases, staying in bed and only sitting up for meals and standing for a shower is required. There are times when monitoring by medical professionals is needed and hospital bed rest may be ordered. Please check with your doctor before following any of my bed rest pregnancy tips.
Things to Do When You Are on Bed Rest
Not every mom-to-be has sufficient financial resources available to allow them to spend their days online shopping till they drop and watching television or reading all day can become tedious. Modern women want to feel productive and get things done so here are some things you can do while on bed rest that will actually mark some items off the to-do list.
Work You Can Do When on Bed Rest
Gardening, exercising at the gym or other physical activities may be off the schedule but working on projects that don't require lifting, standing or moving your body in prohibited ways is still an option and we may have a bed rest pregnancy tip or two that will keep your mind busy while your body is resting.
Plan a Baby Shower
Showers often have to be postponed when bed rest is ordered during the third trimester which can be inconvenient but it is also an opportunity to take your time choosing
baby shower themes
and decorations. Put together addresses to help the hostess address envelopes,
make your own baby shower invitations
or create a registry to give your guests some
baby gift ideas
.
Baby Birth Announcements
Start addressing the envelopes to have the cards ready to send after the baby has finally arrived or put together an email and phone list of people to notify.
What to Put in a Baby Time Capsule
Think of items that you would like to put inside a time capsule that can be opened in the future. Write a letter to your now-grown child telling him or her your hopes and dreams, include an ultra sound picture or a pregnant belly picture that was taken especially for the occasion.
The Family Tree
Buy a
baby memory book
and complete the family history section including interesting details beyond the traditional information of where the grandparents were born and their birth dates. Jot down if grandma made the baby bedding or grandpa is into woodworking and helped dad make a baby crib. Precious memories such as these may never be recorded if you wait until the baby is born.
Bed Rest Pregnancy Tips for Friends- Helping the Mom-to-Be Cope
Perhaps you found my tips for surviving bed rest during pregnancy because you have a friend that is spending her day sitting or lying wishing for some entertainment to help pass the time.
Go here to see
more ideas for gifts for pregnant women put on complete bed rest.
Show up at the door with a bag filled with goodies. GIFTS are a super way to lift the spirits of a housebound mom-to-be. Fill a tote with movie magazines, steamy novels filled with sex that a bloated babe with swollen ankles can only dream about or if nursing was the plan, books about breastfeeding or a happy like lipstick or earrings that she can enjoy NOW!
Hang out a while if (and ONLY IF they feel like company) and enjoy the movie or read funny lines from the books or gossip magazines to her for a laugh .
Books to Help You Survive Bed Rest During Pregnancy
Here are some of the books that were either requested or got rave reviews from the ladies lounging while waiting on the blessed relief of labor.
What to Expect When You're Expecting (the latest edition)
The Surrendered Wife : A Practical Guide to Finding Intimacy, Passion, and Peace with Your Man
The Womanly Art of Breastfeeding
Downloads
If Mom has a Kindle and you can't visit and take the books yourself, consider sending a gift card so that she can take advantage of both shopping for and reading these suggested downloads:
Breastfeeding Made Simple: Seven Natural Laws for Nursing Mothers
The Baby Book, Revised Edition: Everything You Need to Know About Your Baby from Birth to Age Two
The Happiest Baby on the Block: The New Way to Calm Crying and Help Your Newborn Baby Sleep Longer
When on bed rest pregnancy topics may or may not be your cup of tea. Here are some other things to consider while trying to keep your mind busy.
Things to Do During a Visit With a Temporarily Bedridden Pal
There is a reason that sick people are not bombarded with visitors; finding something to do and to talk about can be difficult. It's pretty uncomfortable to just sit, stare or at best talk about the weather so here are some bed rest pregnancy tips that include activities to help your friend survive the boredom.
Questions to Ask
Mom will want to hear about your day but she should know that you are interested in what's going on with her, too. Asking questions is one of the best ways to kick start a conversation but what can a pregnant lady can do while coping with bed rest during pregnancy that is interesting and actually worth talking about? You may be surprised at the answer to that question so here are some things to ask and find out!
Ask the mom-to-be:
About her birth plan. You can bet that the anticipation of the birth of her baby is on her mind a lot and that she would welcome the opportunity to discuss it with you especially if you have given birth yourself. It would be spare her any details that she may find frightening but she will be interested in your birth experience and face it, there are very few people who actually want to hear about it. If she has a pregnancy journal and if journaling has been a rewarding experience and why.
If she has chosen a name yet or which
popular baby names
she is considering.
If she has chosen a pediatrician. If not, she may be interested in hearing about why you chose your child's doctor.
How she feels about daycare if she plans to return to the workplace. You might also ask if she has a facility lined up and her vetting process.
One of the best tips for surviving bed rest during pregnancy is not to think too much. However, making plans for your and the baby's future is a great way to fill the time and put your mind to work with positive results.
Hopefully, you have found my tips for surviving bed rest during pregnancy helpful whether you are a friend or are being forced to rest yourself. Thankfully, I was spared this experience since my labor started on the very day the OB/GYN informed me that I would need to be put on bed rest until I delivered. Talk about supreme mind/body control! Could the mere mention of spending weeks lying flat on my back staring at the ceiling or at the best on "house arrest" have triggered those much anticipated labor pains? We will never know but I do know that I'm thankful to have dodged that particular bullet and feel for those who do not have it so easy.