Baby Time Capsule Ideas - Items to Put Inside a Baby's Memory Box
A baby's time capsule prepared at birth is a great way to record life as it was when a child is born. Share items that will preserve memories and pass family history on to future generations. The world has changed so much since our ancestors were alive. Wouldn't it be wonderful to know about their lives and what the world was like hundreds of years ago? What we wouldn't give to have possession of a memory keepsake box from that time!






You can make a capsule for very little money. With little more than a large, attractive glass jar with a tight fitting top we can preserve important parts of our daily existence in a virtual time warp for viewing in the distant future that might be otherwise forgotten. This may not be the best way to preserve the capsule's contents, but this would be an inexpensive and personalized gift that you can make yourself!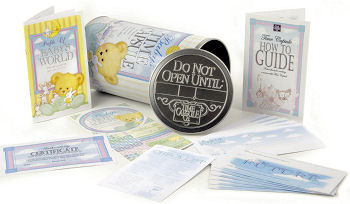 Many people bury their capsules. While it sounds like loads of fun, it is not a good idea to bury your treasure because of moisture problems. The most important piece of necessary equipment, of course, will be the container. A good quality air tight container is important to keep your items dry and to preserve them as well as possible. Containers can range from cheap plastic pipe that you have lying around to expensive engrave able metal containers manufactured especially for this purpose. You can always check out the possibilities with a vendor that specializes in these items.


Why not make a commitment to make a time capsule:
Make a Baby capsule every time a new baby is born into the family and pass the contents to future generations along with other personalized baby keepsakes and heirlooms
Make a capsule on your child's first day of school
If you are really dedicated a birthday capsule for each year would be great
Update the time kept so when he or she starts college
a wedding capsule would make a lovely and unique shower gift
Those are just a few ideas! Hey, it's your capsule, put whatever you want inside! Think of it as your own little piece of family history preservation. It's certainly more unique than the common baby keepsake memory books. What is a time capsule except a way of telling a little bit about YOU and what your life is like! A baby memory box is an accurate description. To get more capsule ideas, contact one of the companies that specialize in capsule containers, supplies and materials. You could even join one of the societies or clubs to get ideas for stuff to put in your memory box.
These companies take containers way beyond tin cans or glass jars for storing your contents. Materials for building a time capsule to be stored for long periods of time should be chosen carefully so that when the excited recipients of your project are ready to open it they will not be disappointed by finding deteriorated useless items inside the container. What a letdown that would be. A time capsule supply company will have handy, helpful lists of ideas and suggestions for what are good things to include inside the time capsule container or memory box. These are professionals who make it their business to protect your items you choose to include in your container and provide all equipment necessary to do so. Shop for the same acid free supplies that museum storage departments use to preserve documents and historic treasures such as:
Acid free paper and buffered acid free tissue paper for wrapping
Clear acid free magazine sleeves
Acid free binders and boxes
Acid free photo storage boxes and photo albums with acid free pages
Acid free scrapbooks
If you are wondering where to store your capsule, there are some things to consider.
You will need a place that will be undisturbed for a long period of time.
Plan for this room to put more than one container
Moisture and temperature control may be an issue
.
The best choice may to be to hide your container in plain sight. Choose an attractive stainless steel or copper container and use it as decoration on a bookshelf or in a display cabinet with other family treasures. A metal container purchased from a time capsule company may have an engraveable plaque where you can engrave permanent information about how and when you want the container opened.
If you are leaning toward a memory keepsake box rather than a hard metal container an attractive wooden box with a metal plaque is a great idea. A solid wood memory box with an acid free lining is an excellent choice for preserving family keepsakes and precious documents.
DOCUMENTATION
You may wish to leave a letter or leave some documentation as to the location and the unsealing date of your time capsule. If you don't leave a paper trail to your capsule it may go undetected forever; virtually lost in time. The point is to let many years lapse between the time you create a time capsule to the time when it is opened. You might not be around to send invitations to your opening party, so be sure to leave the letter that has the information about the location and the date that you planned to open your capsule in safe reliable hands. You may want to place copies of the letter in several different places for insurance.
OPENING DAY
If you are putting together a baby time capsule, you may want to be around for the opening. Why not set the day for your child's 21st birthday, wedding day, or if you are planning to be here a while, on the occasion of the birth of your grandchild. And so the circle is complete. For more ideas on what to put in your keepsake box, please refer to the many helpful articles for parents at Unique Baby Gear Ideas.