Backpack Baby Carriers for Hiking Make it Easy to Carry Baby Anywhere on Your Back
Backpack baby carriers are helpful but not just for hiking anymore. There is a new generation of active parents that prefer to carry their babies on their backs rather than to push them in a stroller when they are out and about and not just when hiking the trails. There are probably as many parents using these carriers for a quick trip to the mall as their our exploring the trails.


Do a little people-watching or check out pictures of celebrity parents in magazines out on the town with their babies that may have one in the stroller and another buckled into a carrier on their back.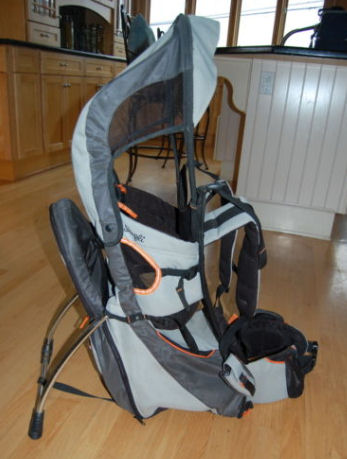 See more here
JOIN a GROUP There are even babywearing groups or clubs to join. Mothers get together to share tips on wearing their babies and ideas on how to explore the world with your baby on board. What mom of multiples couldn't use a little advice on how to manage? Some meeting's activities would be to admire each others' carriers, homemade slings and kids. They just enjoy each others company!
Popular discussion topics may be comparisons of the advantages and disadvantages and reviews of the various types of slings and carriers. They explore the pros and cons of the various charactoristics of Asian styles such as the Mei Tai, Hmong, Podaegi, or the Onbuhimo. Might anyone have a sling they wish to buy, sell or trade? There's never a lack of conversation at these swap meets! Reviews of cool new backpack baby carriers and modern baby gear keep things lively and interesting.
Many moms even start a babysling business from home. Work at home moms are becoming successful sling vendors with nothing more than a unique sense of style, some original ideas and a sewing machine!
Backpack baby carriers are one of the more unique modern baby gear ideas. They are an original hands free way to keep baby safe and entertained while you perform your household duties. A grand idea and innovative carrier design for any mother whether she practices an urban or rural lifestyle. The lightweight aluminum frames and modern design of the new backpack baby carriers make using a carrier very practical! We may have once considered backpack baby carriers to be the business of those travelling about in the rugged outdoors. This is no longer the case! Even classic baby gear manufacturers such as Evenflo have picked up the trend. While some of the Ergo, Baby Bjorn (Active Sporty) and Kelty (Pathfinder) brands in backpack baby carriers are a bit pricey, the Evenflo, Gerry and REI have offerings that will fit most any budget!
How else can a busy mom cover all the ground that must be covered and tend to an infant's needs at one time? Let alone the fact that baby wearing will boost baby's neurological development at rocket speed. Well, maybe not but we can dream! Nobody says we can't grab the Piggyback or Tagalong REI and give it a shot, now do they?
The natural movement and visual stimulation baby gets while travelling in backpack baby carriers has got to be better than lying in a crib and looking at the ceiling! Do you hope to persuade the baby's daddy to tend to baby for hours at a pop? I don't think so. The most you can hope for is that he will jiggle baby a bit before you take a bath and even then he's yelling before you get settled in the water.
The list of things that you can do while carrying baby in your backpack baby carrier is endless! You can cook, shop a sale at the mall, grocery shop without baby having to be in that germ infested shopping cart seat, or you can even use a back pack in the traditional way...to camp and hike the trails where a stroller would be difficult to manage. In your pre-parenting days you stowed camping gear in your backpack, now you'll carry your baby in much the same way.
While backpack baby carriers have aluminum frames to help the carrier keep it's shape and support baby's back, you will not want to pop baby in this type of carrier until he is able to sit upright on his own. Until this time, use one of the front wrap, ring or hip style carriers or babyslings. Some moms prefer a maya wrap, ring slings or mei tai before they make the transition to a backpack baby carrier. There are many styles and choices in each of these types of baby carriers. The sling carrier will get you through the first few months of your newborn's life! If you like to sew, make your own homemade baby sling with our free sewing pattern instructions! Moms have used fabrics of all kinds from fleece to silk and organic denim with great results. The best carrier for your infant is the one that fits your body and his like a well made gloves and provides a soft resting place for a papoose's head.
Once you're through the infant stage and baby is about six months old, you are ready to begin shopping for a backpack baby carrier unless you got lucky and found a front carrier that was convertible that you liked. On the convertible subject, there are some backpack baby carriers that convert into a stroller. Don't buy this piece of baby gear for that reason alone though. Look for performance not hype! Don't just run out and buy the baby backpack carrier that's on sale at the discount store. This is an item that must fit your body, distribute the baby's weight evenly and have the capability to be adjusted to accommodate your baby's growth.
Try several back packs on for size. Practice getting baby in and out with assistance at first, then later without any help at all. Place the backpack baby carrier on a table using the backpack stand. Try out one of the backpack baby carriers with stands that automatically activate when you remove your arms from the backpack. A sleepy baby is not the easiest to maneuver and you should be sure that you could manage the task if you are home alone. Don't give up on the first try. Remember learning to wear your sling carriers and pouches? It was worth the trouble, wasn't it?
Check the product's construction for sturdy, well-sewn seams, weight with baby inside, a well-padded chest rail, adjustable chest and shoulder straps and a safety harness across his chest and shoulder area. Many backpack baby carriers offer a lumbar pad for extra support for a parent's back. Check the stand for the ability to lock securely.
Is baby comfortable inside? Does the padding material at the leg openings and top of the backpack baby carrier allow baby to be in the seat for extended periods of time without making red marks? Is there a canopy or cover that you can use to keep water and sun off baby? Remember how nice your solarveil ring slings were for sun protection? We still need that!
Is there adequate storage for the items that you will want to pack? No need for that designer diaper bag if you can pack all the necessary baby gear and toys.
Is the fabric lightweight enough to allow air circulation in summer? Will the backpack baby carrier cover be easy to clean once baby drips the inevitable popsicle or juice on it? Is the color of the backpack the best color? Will it be easy to see in dim light? For instance a black backpack will absorb a lot of heat from the sun and make baby very uncomfortable.
One of the most mentioned backpack baby carriers is the Baby Bjorn and I find this very surprising as the Baby Bjorn carriers get less than great reviews from some parents. I suppose Baby Bjorn has a dedicated following that appreciates its features. The Ergo gets the best all around thumbs from me and a lot of other moms. Baby can be worn in the front, back and hip positions. Some Ergo using moms say that the Ergo Baby Carrier is more secure for long distance walking and hiking than the framed baby backpack carriers. I can't say, as I'm not the mountain climbing type. The one complaint I have is that there are no really bright fabric colors and I'm really into bright fabrics this spring. I do like the print on the baby's head covering. The little ladybugs, butterflies and dragonflies are so cute!
Try them out in the baby centers, do comparative price shopping online, get one at the consignment store just don't miss the opportunity to wear and bond with your baby!
For more information on backpack baby carriers and baby slings please refer to the main baby carrier page easily accessed from the homepage of Unique Baby Gear Ideas.
Disclaimer: The contents of this article and website are for informational purposes only and should not replace medical advice from a doctor or professional. You should always make your own choices or take the advice of your chosen professional in matters concerning your baby's safety.