Real Western Cowboy Baby Nursery Theme
by Jan
My son has a real western cowboy baby nursery theme! His room is decorated using authentic tools and equipment found on any working ranch or farm. For example there is a pair of gorgeous chaps in the changing area as well as rope and lariats used as wall decor.


The decor is rustic yet very understated, tasteful and in my opinion, fabulous. This room has basically everything we dreamed about for our son's nursery.



Ashley of A Picture Life Photography did an amazing job taking the nursery pictures as well as putting together some wonderful ideas for portraits of Chase and his gorgeous mom and dad that I'm saving till last.


Go Here to See More
In the old westerns, the first thing we see when riding up to a ranch is a large, wooden gate with the name of the ranch or the family's name with their brand on a sign. A similar display behind this little cowpoke's crib makes a dramatic statement in this
western cowboy baby nursery theme
.
The blend of western themed decorations, books and toys on display on shelves is brought to life with a pop of red from a bandana draped on the side of a storage bin alongside a photo framed in a cow print frame.
The quote in the original artwork made me smile and wonder how many southern girls have wished upon a star or in an earnest prayer before bedtime that their cowboys came with instructions?
The rusted, metal star and the personalized sign with Chase's name, cowboy boots and a hat on it is too cute!
And..speaking of instructions; do any of you actually know how to rope a calf with one of these? Somehow, I think this little fellow will be learning rope tricks at a very young age if Dad has a say in the matter.
This western nursery also has a soft side.
Ashley does a nice job of showing us the sweet side of the room in her photo of a toy sheep wearing a cowboy hat snuggled in the baby's bed.
Her ideas for a cowboy themed newborn photos and other are what keep me coming back over and over again to
A Picture Life Photography Blog
Her choice of colors and textures is spot on. The rustic, twig chair, the cowboy hat and baby Chase napping on a sheepskin rug are masculine enough to make a proud daddy happy with a touch of sweetness for mom.
This picture of Daddy giving his son a kiss brought a joyful tear to my eye. Seeing the love this big, tough cowboy has for his son made my day.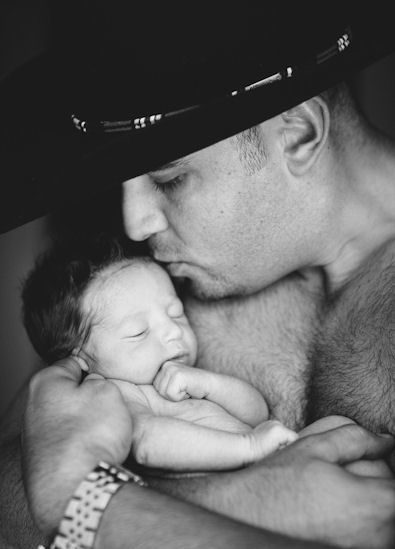 Thanks so much to Ashley of A Picture Life for allowing visitors to
Unique Baby Gear Ideas
to enjoy her amazing portraits. It's not every day that we get to take a tour of a real western cowboy baby nursery theme.