American Western Nursery Theme
by JAMES
(NM, USA)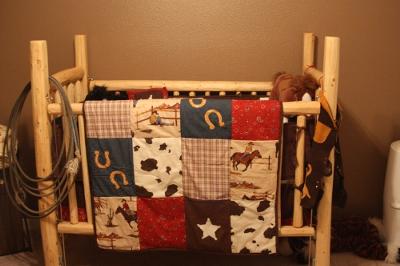 Rustic homemade baby crib that we made from pine logs
Our baby's American Western Nursery Theme has many pieces of rustic, homemade furniture and decorations that were all made by myself and my uncle.

I believe that you will be as amazed as we were at how much money you can save by making your own nursery furniture and wall decorations.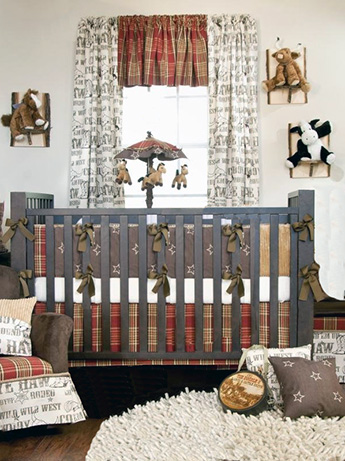 Go here to see more
.

Rustic Western Nursery Furniture
Every piece of furniture in the nursery is homemade including the babies crib and other furniture that were built from native pine logs.
See my tips on
how to make a rustic log crib for a baby
.
When I made the three shelves for the wall, I decorated them by embedding rope on the edge that I then secured using iron horseshoe nails.
We made the western lamp that you see on top of the night stand using an old cowboy boot filled with rope. We also decorated the top and the bottom of the lamp shade with leather accents.
I handmade wooden planks that you see hanging on the wall. The Longhorns that I added were found at a yard sale but those Brands have been in our family for five generations (NOW 6!).
Creative Western Nursery Wall Border
We used a rope as a border for the entire room on the baseboards and in a circular design just below the ceiling. We also used handmade letters to spell the baby's name "CASH" on the wall above the bed.
Just to the right of the baby's name is an old mirror that was made from an old plow horse harness. That mirror had hung on the wall in my great-grandfather's house since the 1940s.
How much would it cost Unique Baby Gear ideas' visitors to duplicate your western baby nursery ideas?
The total cost of decorating our American Western nursery theme not including the cost of the baby bedding was about $500. That figure includes paint, the wood that we used to build our nursery furniture and the rope. Most of the decorations in the room are either family heirlooms or were handmade.
If anyone has any questions about any of the western themed nursery decorations or furniture, you can email me using the comments form on this page.
Disclaimer
Making my own crib and nursery decor worked well for me but I as well as www.unique-baby-gear-ideas.com should be held harmless from any resulting accidents or injuries resulting from the plans and/or advice.