Brown and Blue Nursery Ideas for Baby Boys and Girls Rooms
Thanks to our amazing visitors we have some adorable brown and blue nursery ideas that not only feature design tips for decorating a baby boy or girl's nursery in this popular color combination but also many crafts and paint projects that even a beginner to the area of DIY can master.



The pictures they share will help you to choose a style that suits your decorating taste and a layout that will work for the space. Plus, there are tutorials, shopping advice and lots of other information for how they achieved the results that you will see in the photos that they have uploaded.


So many parents write in to say that they are confused and just don't know where to start. It helps them to know that they are not the only ones; we have all been there. You are not alone! Our goal is to help you find a starting point, walk you through the basics and guide you through a virtual sea of chocolate brown and turquoise blue baby bedding collections or tell you how to make your own if that's what it takes to get the nursery that you want.




Your color, print and design of the bedding and window treatments will have the largest visual impact on your room, and that's where most decorators look for inspiration.
Shades of blue can range from the lightest silver to the darkest navy and care should be taken to stay in the same color family.
Baby Blue Nursery Ideas
Once you pick your crib bedding, there are so many decorating decisions that will be automatically made for you.
Or perhaps you would prefer to choose and coordinate fabrics and make your own crib set.
Regardless of whether you buy or make your own bedding set; once you have it in hand the first hurdle in the decorative process has been cleared.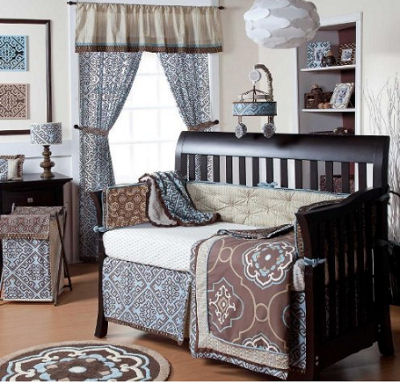 Go here to see more
examples of crib sets and decorations for your baby's room.
FURNITURE
When considering the finish for wood furniture in a bedroom where the walls are painted a dark chocolate brown, the first thing that comes to mind is wood furnishings that are painted white to balance the dark color on the wall. And you would be correct in thinking that white or cream would be best for the furniture, but any light wood finish would work.
Brown Baby Bedding

Best Baby Boy Nursery Themes
SHARE IDEAS - PICTURES of BLUE and BROWN NURSERY DECOR
Do you have a great set of baby bedding or a picture of a nursery that you decorated in a blue and brown color scheme? Share it!
BLUE and BROWN NURSERY PICTURES, IDEAS and SUGGESTIONS from our FRIENDS
Click below to see contributions from other visitors to this page...



In fact it might be wise to choose your crib and other furniture first and THEN pick a shade of brown for the walls that goes with it. For instance nursery furniture in ash wood might indicate a deep cocoa paint color, whereas a crib in light oak would indicate a warmer shade of brown. Both will serve to lighten the area serving the same purpose as painted white furniture.




ACCESSORIES and UPHOLSTERY
Hold on tight and get ready for progress. You will be able to nail your baby blue and chocolate brown decorating ideas down at a rapid pace once you have the bedding in hand. Once you actually have the bedding in the baby's nursery the baby bedding fabric print and color will begin to speak to you. I'm speaking metaphorically, of course. If you have a crib set that's talking to you, you have bigger issues than what colors to use on your brown and blue nursery rocker cushions. OK?
Your baby's crib set will be more of an inspiration and conversation starter if you play your cards right and choose your matching baby gear and accessories carefully. Pay close attention to the colors in the baby blue and chocolate brown bedding fabric. Is the shade of blue turquoise or is it closer to a green or teal blue? Is the background or foundation of the comforter print white or cream? Take note of the level of importance of each of the featured colors and follow suit unless you are decorating with a toile fabric.
Picture this scenario: The background of the your bedding fabric is cream with teal blue being the next most visible color and last there are flecks of chocolate brown. Bearing in mind that the lighting in each nursery or bedroom is different, I would consider this a unique decorating opportunity to paint at least one of the nursery walls a coordinating deep, rich chocolate brown.
It's my opinion that if your bedding is predominately antique white or cream, that it would be a mistake to paint a large area of wall the same color. With the right wall decorations, it might not be a mistake or complete disaster, but why miss an opportunity to do something really dramatic, daring and different within the brown and blue color family?
There are modern bedding collections in blue and deep brown fabric prints for baby boy's nursery themes and well as for baby girl's rooms in
Geometric prints
Brown and Blue Polka Dots
Brown and blue Stripes
Baby blue and brown polka dots
If you think that walls painted a dark chocolate brown might overpower your chocolate brown and blue comforter or crib set for your baby or make your nursery seem small, consider using the deep brown on an accent wall while painting the other three walls and the trim in a matching cream color. Nursery rocker pillows in teal blue, brightly colored nursery rugs, and other pops of teal or turquoise blue will work with your chocolate brown and turquoise blue baby bedding to pull together a fabulous nursery with a brown and blue color theme beyond compare!
Please plan to visit Unique Baby Gear Ideas again soon to find more baby girl nursery ideas,the best baby boy nursery ideas and ideas for both in a blue and brown color scheme PLUS a gallery of pictures featuring baby bedding sets and gift ideas in these colors for a newborn.