Orange and Blue Baby Muscle Car Nursery Theme
by Jan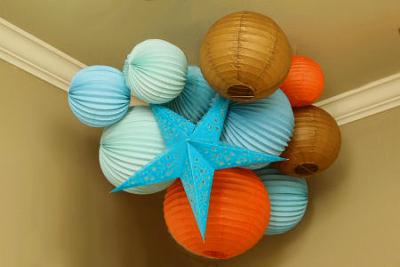 The aqua blue, brown and orange star and orb paper lantern nursery ceiling cluster reflects the color scheme of Baby J's room.
The design of this baby boy's orange and blue baby muscle car nursery theme was a labor of love performed by mom and dad with the help from some talented, helpful friends


Friends offered their expertise and assistance in painting the walls as well as making some one-of-a-kind room decorations.



See more baby boy nursery pictures featuring a muscle car theme in our photo gallery
A friend also lent a helping hand in sewing for the project.
Instructions for Making a Paper Lantern Mobile for the Baby's Nursery
As you will see, Natalie has done a super job of providing lots of details on what went into this nursery decorating project as well as very helpful information like paint colors (YAY!) and product names which should eliminate the need to write in asking those kind of questions although you are welcome to leave comments giving her a thumbs up to show your appreciation.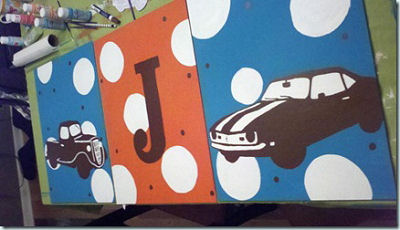 Go Here to See More
Since Baby J's dad is a huge car enthusiast, Natalie wanted to incorporate his love of muscle cars into the decor.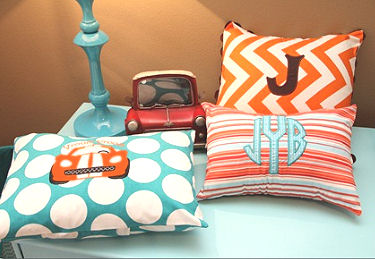 Mom's friend, Kent, sewed and embroidered the personalized pillowcases as well as making the nursery window treatments.
Painting one of the nursery walls in brown and white horizontal stripes was a great idea; the striped accent wall actually made the room seem larger! As promised, the paint colors they used are:
(Brown) Valspar's PARK FOUNTAIN
and
(White) Valspar's WEDDING BELLS.
The remaining three walls were painted in the brown paint color, Park Fountain.
There are excellent pictures of the striped wall painting technique on Natalie's blog but I liked this one because it shows how much fun the girls had in the process!
The first purchase that was made for the room was the baby bedding set that was bought on Craigslist for a great price. The Dwell Studio Dots crib bedding set in chocolate brown fit perfectly with the modern nursery ideas that she had in mind.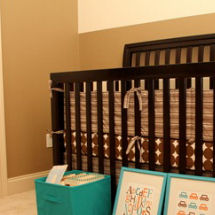 The time spent checking out the classifieds really paid off. To say she got the crib set at a discount is a huge understatement. The sturdy, Sorelle Gia crib had held up well after having been used previously for Baby J's older sister and luckily; it is a good match for the Dwell crib set.
Mom made the rounds of thrift and consignment stores searching for a changing table/dresser combination and came up with....this?
Seriously? I love the retro styling of the piece but the color is not...right.
.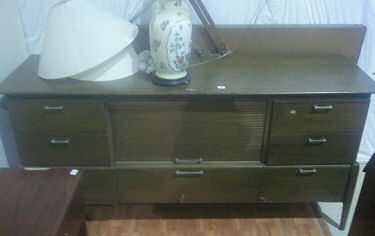 Do not despair, the nursery's design is NOT going down the tubes, I promise. Natalie, with Joe's help, turned this tired piece of furniture into something fabulous!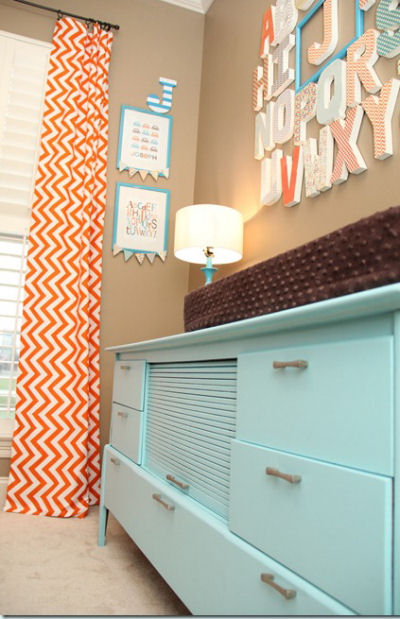 What an incredible transformation, right? They decided to keep the original drawer pulls since they were in workable condition and looked great with the aqua
blue nursery
paint keeping the cost somewhere in the ballpark of $100 and figure includes the dresser, paint and supplies. When something...anything looks this super for that kind of money, as Martha Stewart says, "It's a very good thing".
You got a peek of the orange and white chevron curtains in the diaper changing table nursery picture but since I know that you are going to love them as much as I do; here's another view.
There is no resource for the window treatments here since another good friend of the family made them.
The amount of fabric needed for the drapes was estimated to be 7 yards to accommodate the nursery's ceiling 10' ceiling.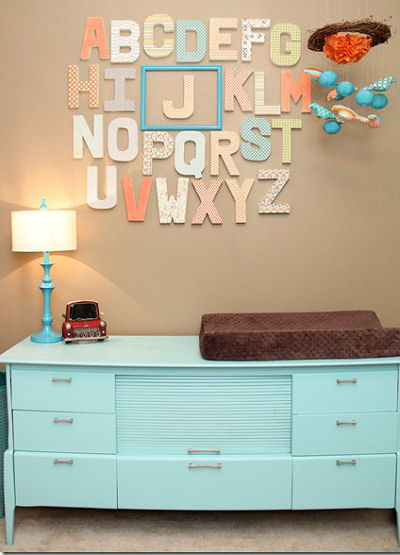 Another friend, Allison, made an arrangement of alphabet letters for the nursery wall as well as some of the painted art. Does this mama have a great bunch of girlfriends or what? The decision to frame the baby's initial was made at the last minute.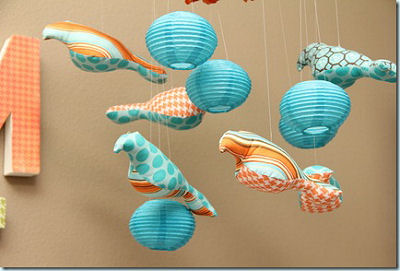 The homemade baby mobile, made by mom, features the same color combination and lanterns as the star and orb ceiling cluster.
As difficult as it may be for you to believe; there are more
pictures of this baby nursery
on
One Porkchop
, each more delightful than the last. You will also find additional shopping resource information and links to tutorials that will help you to re-create your favorite parts of the orange and blue baby muscle car
baby nursery theme
but before you leave
Unique Baby Gear Ideas
please leave a comment indicating what caught your eye in Baby J's room and please visit our gallery of
baby boy nursery pictures
to see other DIY and craft projects.