Pretty Royal Blue Crib Bedding Sets and Nursery Decor for Baby Boys and Girls
Are royal blue crib bedding sets for baby boys only? Absolutely not! Ok, so royal blue color kids bedding has always been associated with a boy's bedroom. I will present the case that if chosen and accessorized properly, royal blue bedding can have a spot and even be the decorating inspiration piece of any child's room.



Visitors Who Like This Page Also Enjoyed these Pages:

Blue Baby Boy Nursery Pictures

TOP! Baby Boy Nursery Themes

Most modern royal blue crib bedding sets have a nautical or seaside theme. The backgrounds are an ocean blue with various beach, sailing or yachting print fabrics. Royal blue is cool, tranquil and so very versatile and can definitely be used for baby girl's nurseries as well as for boy's rooms. Sure navy blue fabrics printed with stars and stripes might be a little bold, but it's not inappropriate!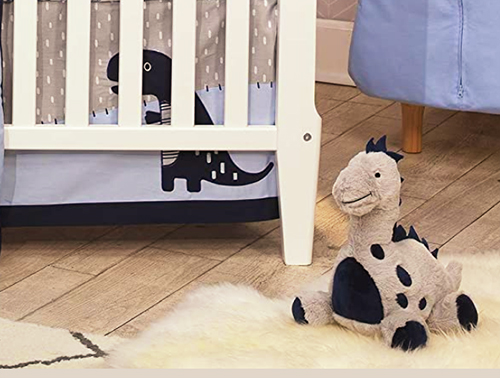 Don't ask me why we can use royal blue crib bedding sets in baby girls' nurseries and not be able to do the same with baby blue. I have no answer for that except that there are certain color associations that are deeply embedded in traditions. No matter how much pink, purple or how baby bedding with yellow ducks you add to the mix the message is still crystal clear that it's a baby boys room. Take a look at the Banana Fish Genevieve blue baby bedding collection. The baby blue is combined with a vintage design floral print but somehow the flowers failed to pull the blue chambray over to what I would consider for a girl's room. The blue chambray fabrics come across as too boyish to use as girls bedding. Baby bedding in blue toile comes closer to fitting the bill. We, as a culture, have a mental image of a nursery decorated in blue for boys only. For that very reason I'm going to give you quick and easy nursery decorating ideas for using royal blue crib bedding sets in a feminine bedroom and how you can use the royal blue color in a gender-neutral theme.
Royal blue is another story. To create a completely gender-neutral nursery theme using royal blue crib bedding sets you would:
Add brightly colored tropical fish, dolphins or whale nursery decorations. A natural theme knows no gender. Mother Nature is completely unisex.
Create a seaside landscape including some vintage lighthouses
Float some Sailboats, yachts or other sailing vessels on a tranquil sea of blue
Create an informal fishing complete with cane poles, worms in a can or fish bait in a bucket, straw sun hats on the wall for decoration and baby sun protection
Add red and white and you will have the makings of a perfect patriotic themed room. Nothing pops like white stars on a field of royal blue. Our founding fathers really got it right when they came up with the layout for our nation's flag.
Using a shade of deep royal blue to decorate a girl's nursery is a tiny bit trickier. The common thought would be to go for high contrast and use white eyelet or other white fabrics to offset the dark and traditional masculine feel of the royal blue color. There's nothing wrong with this approach to decorating as you can throw in some sunny yellow print fabrics and have a successful balance of hot and cool colors. For this color scheme to work you have to have a mix of prints and solid fabrics.
Here are some ideas for using royal blue crib bedding sets to create a dreamy baby girl's nursery. The caveat will be that some of the styles of baby bedding will have to be custom sewn:
Royal blue crib bedding sets in a sassy bandanna print on the baby bedding for your little cowgirl
A a print with waves of the ocean in blue is a perfect background for a mermaid nursery theme
Royal blue crib bedding sets combined with colorful flip-flops, grass Hawaiian hula skirtsand sunshades is so cute for a beach bound baby girl
I'm willing to admit that we are some what restricted in our choice of themes if we have our hearts set on using royal blue crib bedding sets for a baby girl. I hope that the nursery decorating ideas that I've listed will help you to use your imagination and come up with lots of ways to make your royal blue crib bedding sets work in the nursery theme of your choice.
Please come back to visit Unique Baby Gear Ideas again soon to see the latest royal blue crib sets and decor for your nursery decorating project.