Dreamy White and Light Blue Nursery Ideas for a Baby Boy with a Goodnight Moon and Stars Theme

The words used to describe the white and light blue nursery ideas for a boy that you will find on this page are "peaceful", other-worldly, modern and I'm certain that after you view the gallery; you will have a few delightful comments of your own to add.

This room has been covered by CBS News and, in my humble opinion, deserves every bit of the praise it has received. In my line of work, it's so difficult to find an original design that's attractive and uniquely "different" without getting so fussy that the space becomes high maintenance and often dis-functional.
There is a tip of the hat due to Murals and More by Patrice and Sweet Lullaby in this regard for finding a beautiful balance.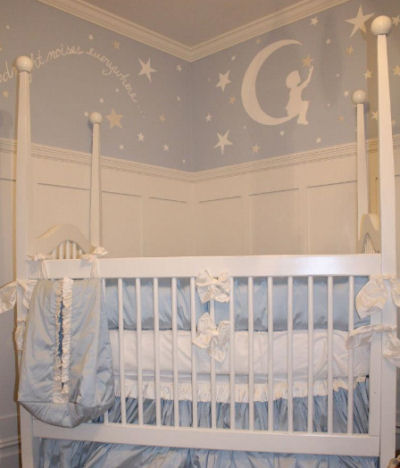 The mom-to-be had requested a
moon and stars nursery
that had a modern look and then she turned the creative process over to mural artist, Patrice Hoban of Murals and More by Patrice who created the original artwork for her
baby boy's nursery
from concept to the completed mural.
According to CBS, the painted images of a little boy sitting on the moon with a star filled night sky in the background is so calming that it will help to lull a baby to sleep.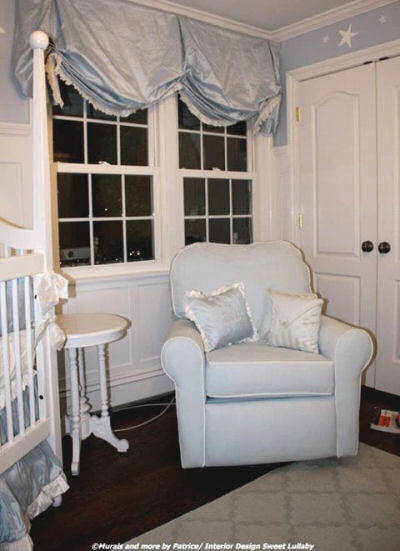 The atmosphere here is certainly comfortable and conducive for snuggling with mom and dad in the Angel Song glider while they read a few pages of Goodnight Moon, the book that inspired the silver-y
white and light blue nursery ideas for a baby boy
that surround them with such style and warmth.
I must confess that this room made me wish (just a tiny bit) that I had a baby boy until it struck me that it would be easy to tweak the colors and mural design for a girl's nursery. Moms expecting a baby girl might ask Patrice to change the light blue wall paint color to pink instead of blue and the silver stars with champagne gold ones. Here's an idea for decorating a nursery for fraternal boy and girl twins; contact her and request that she paint a mural with not one but two moons with a boy on one and a girl on the other. When you have a talented artist to work with there are so many possibilities.
I hope that you have enjoyed the white and light blue nursery ideas for a boy (as well as the suggestions for adapting the decor in this feature for a baby girl or a nursery for twins) and that you will stop by and give Patrice's Facebook page your stamp of approval as well as
Unique Baby Gear Ideas
and Sweet Lullaby.
Thanks so much to Patrice Hoban for allowing me to share these nursery pictures with our visitors.