Classic Winnie the Pooh Blanket Gift Ideas for a Baby Boy or Girl
Every child needs at least one pretty, plush Winnie the Pooh blanket. This is the perfect gift idea for a child that will warm up those chilly evenings spent snuggling with mom or dad while enjoying the classic Winnie the Pooh and friends' stories. What better way to get in the mood for a good tale than to wrap up a soft coverlet that was given especially for that purpose?




Winnie the Pooh Nursery Theme

Winnie the Pooh Curtains


A classic Pooh plush blanket with an embroidered picture of the famous bear, Tigger or Eeyore on the corner accompanied by a copy of the storybook makes a lovely present. You might want to keep some on hand in your gift stash ready and waiting for a toddler's birthday party or a shower when you got a tip that there is a similar theme waiting to welcome baby home. If you can sew, a cozy quilt in Classic Pooh fabric in a patchwork design can take the place of a plush blanket.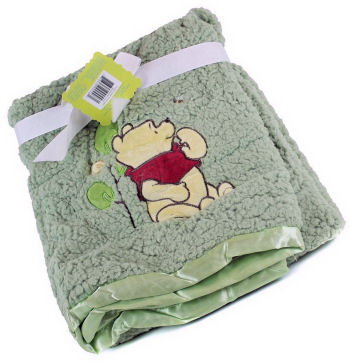 Go Here to See More
blankets in Pooh Bear and other classic baby themes and colors.
One cool idea is to use a personalized Winnie the Pooh blanket gift set in your gift basket as a liner. Be certain to arrange the folds of the baby blanket so that the corner where you had Winnie the Pooh's picture and baby's name and birth date if the blanket has been monogrammed or personalized.
How to Make a Blanket for a Winnie the Pooh Baby Nursery Theme for a Boy or Girl
Here is a way to transform a yard or two of inexpensive fleece fabric into a precious, item that you can use as part of your personalized gift basket.
Go to a discount fabric store and buy a few yards of Winnie the Pooh baby fabric (cotton fabric is more comfortable than polyester)
Measure to be sure the fabric is a perfect square
Finish the edges of the fabric with a blanket stitch using thread in a complementary color
Buy a single Pooh Bear patch that is sold in the sewing section of any fabric store
Take the blanket to a seamstress and have the patch sewn to your Winnie the Pooh blanket along with any quotes, sayings, monograms or names that you wish to add
For just a few dollars you will have an impressive, homemade baby gift that is cheap compared to the price for the least expensive personalized Pooh Bear baby blanket gift set.
There's no need to have cold fingers and toes while enjoying the adventures of the 100 Acre Wood when you have good friends that were thoughtful and creative enough to tuck a Winnie the Pooh blanket into a gift basket.
Please take a look around Unique Baby Gear Ideas to see personalized baby gift ideas that we have just for you!