Baby Nursery Window Valance Ideas - Cute Curtain Toppers for the Baby's Room
Use our window valance ideas to find the perfect window valances that will put the finishing touch on your kids rooms or a baby boy or girl's nursery. Why would we want to find a pattern and learn to sew valances rather than jump right in and make our own drapes and curtains?


Because the sheer amount of fabric involved in sewing your own drapery panels can be intimidating where a cute valance will only take a yard or two of curtain fabric which makes them the ultimate in beginner sewing projects. Even if you make an error or get the measurements wrong, all you've wasted is a little time and a couple of dollars.



Baby Boy Valances


Use French hand sewing techniques to create an elegant nursery window valance with pleated tucks. Tie tops and a natural, branch curtain rod add a rustic look perfect for a baby boy's room.
Window treatments for boys provide the perfect opportunity to use tailored, box pleated patterns that have been personalized with a center medallion of monogrammed initials and cording.



If a monogrammed curtain topper is too formal for the room's décor; there are other options.
A favorite logo, an emblem from a favorite super hero or other graphics bring a light-hearted atmosphere to the room.
Valances with stripes are also very popular in baby boys' rooms. The addition of a button-tab,box pleats or piped trim is a great way to add interest to these "easy-to-make yourself" window treatments.
If you are just learning how to sew, a plain, gathered design is appropriate but make up for the gathers by leaving the hem plain and by using substantial
kids curtain rods
and drapery hardware to give the window treatment a masculine look.
Window Valance ideas for baby boy and girl nursery rooms.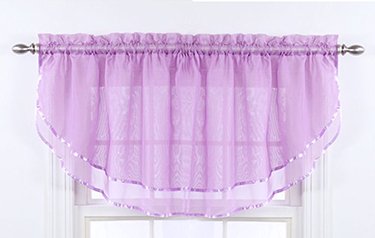 Go here to see
this sheer window valance and more for less than $15!
Baby Girl Window Valance Ideas
Traditional styles for girls are lacy, light and airy. The toppers are very effective in adding a pop of color when used alone or to soften the look of blinds and shades that may or may not be mounted inside the window frame.
The benefit of simple valances such as the one in this photo are that they don't require yards and yards of fabric to make and many don't even require a pattern! This one is a simple rod pocket style that came together with a few straight seams. Hey, even I can do that! The pleating of the panel is accomplished with (four) 4 strategically placed, color coordinated lengths of satin ribbon tied over the curtain rod and finished with a bow.
Lacy fabrics and light colors are most popular but occasionally an adventurous decorator who likes to do her own thing when it comes to baby nursery ideas may have a preference for bright colors and fabrics with texture instead of traditional fabrics and patterns.

A simple, homemade window valance monogrammed with the baby's initial adds a professionally decorated look to the room.


The shades of blue in the paisley fabric contrast beautifully with the chocolate brown thread used to embroider the baby's initials.
Baby Fabric for Valances
Beyond matching your curtain fabric to your baby's nursery color scheme and decor, you will want to choose a fabric that will work with your sewing pattern. For instance a thick, heavy fabric is simply not suitable for a frilly, ruffled style valance and a tailored valance made from sheer fabric will be easy to sew nor will it look as nice as if you had used a fabric that could pressed to display those pleats that you learned how to make to full advantage.
Valance Styles
When looking for ideas for window treatments, you will quickly see there are many styles as well as ways to embellish them with various trims. There are:
Scarf Valances
Swag Valances
Country Style Valances
Tailored Box Pleat valances
Gathered Ruffled Valances
Balloon Valances
Ascot Valances
Scalloped Valances
Tab Valances
and that's just to name a few different styles of valances that you might consider.
How to Make a Valance
If you want to sew your own window treatments, there are many window valance patterns online or you can buy a sewing pattern that usually has more than one style. Even if you use one of the free online patterns, you can get lots of window valance ideas by taking a look to see what Simplicity, Butterick, McCalls and Vogue have for sale.
Passing it Forward
I hope that when all is done, the nursery decorated and the window treatments are hung that you will stop back by and share your window valance ideas and some pictures!
SHARE WINDOW VALANCE IDEAS
Do you have an idea for how to make a cute valance or a super fabric resource? Share it!
WINDOW VALANCE IDEAS PICTURES and FABRIC SUGGESTIONS from our FRIENDS
Click below to see contributions from other visitors to this page...