Baby Sam's Cute Nursery Has Lots of Storage Ideas
by Jan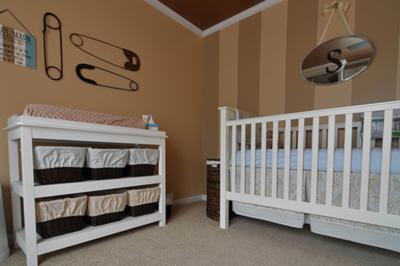 This baby boy nursery is an organized delight with his everyday items stored inside baskets with homemade liners in Pottery Barn style only better.
To say that baby Sam's cute nursery has lots of storage ideas is a huge understatement. Amanda, as you will see, is as devoted to bringing style to nursery organization as she is to bringing a little city chic to the Atlanta suburbs!

The striped wall painting technique that Sam's dad chose for the accent wall is definitely one of my favorite features. Amanda said that they chose to paint the wall behind the crib in stripes using two shades of taupe to keep things neutral while making a bold visual statement.
The rocker was a gift from Sam's Mimi and its upholstery complements the fabric closet "door" that Amanda's best friend made for her!
Go Here to See More
One of the first things I took note of in the nursery's decor were the (according to mom, challenging to paint) stripes but then I looked up to find that the ceiling was even more striking than the stripes!
The photos don't begin to show the decorative impact of the nursery ceiling painted in metallic bronze. Believe me; it's impressive and will have parents who otherwise would not worry with decorating their ceiling changing their minds about that!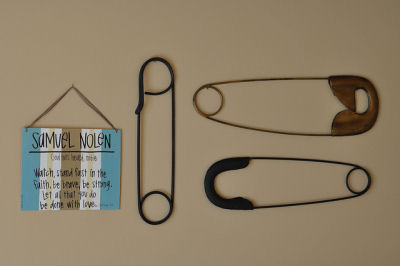 The wall decor in baby Sam's nursery includes these giant safety pins meant to decorate a laundry room that when displayed over the changing table in a baby's nursery become diaper pins! The personalized plaque, a gift from a friend, adds color to the arrangement that reflects the taupe, blue and creamy white of the paisley fabric in the custom crib set.
The oval mirror over the crib was also a gift that Amanda personalized with a wooden letter. What a great idea!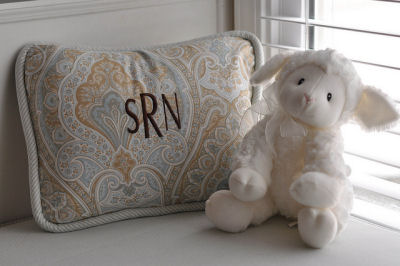 Sam's name has a very special meaning to both his mom and his dad and there are many personalized details demonstrating this in the room.
The personalized pillow as well as Sam's bedding were ordered from Carousel Designs and a friend, Melissa, added the baby's monogram.
The cornice board was a DIY project that Sam's dad and grandfather built together. The same talented friend that monogrammed the accent pillow added a monogram to the curtain fabric before the valance was assembled. Wouldn't we ALL love to have a friend that can do that kind of stuff?
As I mentioned earlier, Sam's room includes lots of
nursery storage solutions
that are not only great for organizational purposes but are charming and do double duty as decorations!
These shelves are filled with many thoughtful gifts from friends as well as items from Amanda's childhood. The drawers beneath the shelves are the main source of storage besides the closet. And just wait til you see this closet that I'm saving for last!
The decorations on the shelves are a work in progress with items being added and re-arranged often.
The cake pop caddy from the baby shower now provides a very attractive way to keep baby's diapers easily within reach and the baby blue, puppy dog night light is on mom's list of "must-haves"!
Painting the nursery's closet was the first of many "do-it-yourself" projects in Sam's room.
The color of the closet is a shade that Amanda calls bright sherbet orange. She made the decision to paint the walls this color before she knew whether they were expecting a baby boy or a baby girl or what the ultimate color scheme of the nursery would be.
She just wanted the closet to have lots of storage and to be FUN! And as lighthearted and fun as it is; it's very functional! The special place to hang extra diaper bags alone makes this design remarkable! See, I told you I was saving something special for last!
What could be more special than to close with a peek at little Sam himself? What a precious, precious baby boy!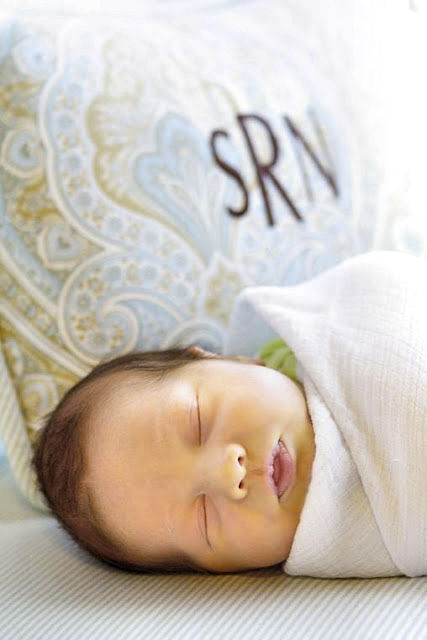 To see many more
unique baby gear ideas
, please visit Buford Betty, but not before you leave a comment to vote for Sam's nursery to win our
baby picture contest
!