Baby Super Hero Nursery Theme
Superman and Friends Represented in the Baby Bedding , Crib Blanket and Window Treatments

This baby super hero nursery theme for a boy with a custom Superman blanket and bedding set will make any comic book lover worth their magic de-coder ring smile! Holy Smoke, Batman, this crib would have Spiderman coming down off the wall to hang out and chill-lax.
To be clear, this is not a Superman or a
baby Spiderman nursery
; it's an all-encompassing super hero themed room with a special emphasis on Clark Kent's alter ego. Ok, I'm (almost) done with the cartoon character quips; I know that moms-to-be and particularly dads-to-be want to see some baby super hero
nursery pictures
!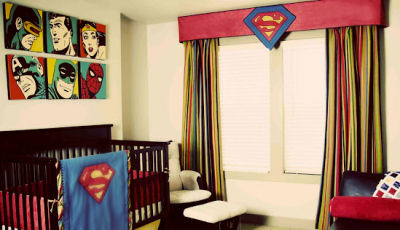 Waiting until they were certain that they would be decorating a baby boy nursery to make a decision, a vintage super heroes theme took the lead over other
baby boy nursery themes
as well as a vintage owl theme because of its masculine atmosphere and possibilities for an attractive color scheme with muted colors. The room had been Mom's photography studio before its transition into a welcoming room for baby.
It got a complete makeover with a design that is clean and simple with a healthy splash of retro that beautifully brings to mind colors that I spent hours and hours with when I was a kid. Yes, even (perhaps especially?) girly girls love Superman, Batman, Spiderman and of course, Wonder Woman who is also represented in this room.
When I say "welcoming", I
do
mean welcoming as in soft, cozy and restful. Even Superman needs a soft place to land when he's not out leaping tall buildings with a single bound or racing to rescue Lois Lane from some villainous evil doer. I can imagine Dad's comic book collection stashed somewhere nearby ready for reading time on the comfy, reclining sofa that was purchased at IKEA. Is there any wonder why this is Cristi's favorite spot to read to the baby?
Superman Baby Bedding
Cristi from
Weeds to Wishes
and her husband were the brains behind the concept of their
baby super Hero nursery theme
but a loving grandmother, who has some super powers of her own where a sewing machine is concerned, made the baby bedding. The crib quilt with the Superman emblem was a gift from a dear friend.
Mimi wore the "cape" of personal decorating advisor for the project where her talent for décor and blending fabrics for her soon-to-be born grandson's room had an opportunity to shine.
Mimi found the perfect fabric featuring the muted colors necessary for the vintage look that Cristi wanted for the space and sewed the crib bedding and nursery curtains, too! The entire set is custom made except for the fitted crib sheets although "Super Mimi" did whip up some extra sheets as well.
Superman Nursery Curtains
Everything in this baby boy's nursery is custom made including the Superman window treatments. The Superman emblem on the valance was drawn up and cut out to match and then the valance was assembled by gluing the fabric on a board and stapling it to the back. The cornice board was then mounted in place by drilling it into the ceiling. All of this took muscle power so it's good that this decor can grow with baby!
MORE DIY Projects
Since most items that are readily available for decorating a baby super hero nursery are in bright, modern colors; Cristi and crew had to get creative with the room's decorations. I was amazed to learn that they designed the paintings that we see in the arrangement on the nursery wall and stretched them themselves.
The prints were inspired by images found in comic books, designed in Photoshop, painted and then stretched in the garage. Voila! Now that's how to create, budget friendly, do-it-yourself comic book pop art with faces that are happy and hero-like..not scary with mean faces. Cristi says, "I love the artwork and the how the piping matches the fabric of the drapes." I say, "We love
everything
aspect of your baby super hero nursery, Cristi! Good job!"
The subtle aging of the Superman lunchbox, coin bank and Batman book are perfect for the space.
These "decorations" have stood the test of time and will be enjoyed for many years.
As the Baby Grows
The baby super hero nursery theme is one that will grow with a child. When the time comes, the convertible crib will become a toddler bed and the decor can remain the same.
Cristi's Decorating Tips and Nursery Ideas
Don't be afraid to do something "different" even if you get some strange reactions from people and consider decorating in a theme or style that can be converted for use in a "big kid" room to save both time and money later on. Design a comfortable space where you can enjoy spending time together and ignore what others think; Go with what you love.
I hope that visitors to
Unique Baby Gear Ideas
have enjoyed this nursery reveal and that you will visit Weeds to Wishes for updates and to see more photos.