Where to Order Bolts for a Simmons Baby Crib
by Kim B
(Hillsboro, MO)

1/4 - 20 X 1/2 inch long hexagon head bolts for a Simmons Baby Crib
Does anyone know where to order bolts for a Simmons baby crib. I need to find four (4) 1/4 - 20 X 1/2 inch long hexagon head bolts so I can proceed with assembly.

I need to buy four (4) of each bolt seen in the above parts and hardware diagram from the owner's manual as well as the metal support handles seen in the additional picture.


I could not clearly make out the complete model number but it looks like it could possibly be 4419 87 103.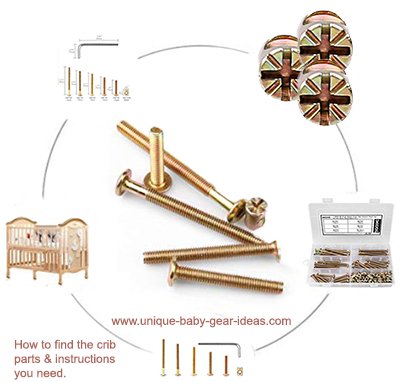 Go here to find
hexagon head bolts and replacement hardware for a Simmons crib.
The location of the manufacturer listed on the label is New London, Wisconsin WI which means that the manufacturing company that produced the baby bed is most probably Simmons Juvenile Products.
Please take a look at the picture I posted to see if maybe you can figure out what the first 2 numbers are!
If anyone has any bolts they might send or suggestions on the model name or number, please contact me using the space below with your contact information in case I need to get in touch with you.
Unique Baby Gear Ideas
encourages our visitors to share their extra parts, alert us to crib recalls and to write reviews of their cribs to make our little community of expectant parents aware of any problems that are associated with different models and brands.