Vintage Wizard of Oz Nursery Theme
by Shelley
(Hickory NC)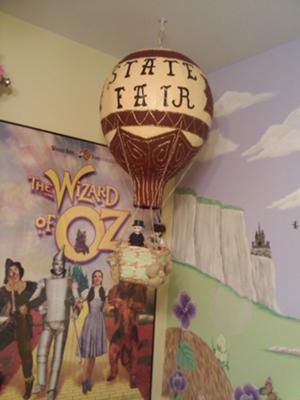 Vintage Style Wizard of Oz Baby Nursery Decorations
I'm not sure if our baby's Wizard of Oz nursery theme really qualifies as "vintage", but it's definitely one of a kind and I'm proud of it. When we found out that we were having a girl, I immediately asked my mother if we could possibly pull off a Wizard of Oz nursery theme.



When she responded that we could certainly try; the concept of my baby girl's nursery room was born!




decorations for your baby's Wizard of Oz themed nursery!
Q: What inspired you to decorate your baby girl's room in this particular theme? Were you looking for just any vintage movie theme or does this old film hold special meaning for you?


I have loved the story of the Wizard of Oz for years and have been an avid collector of Oz memorabilia and collectibles.
Q: I am always on the lookout for unique nursery ideas and bedding collections and I am pretty sure that there are no crib sets available in this theme available. Did you buy some Wizard of Oz themed fabric and make it yourself? :
We were fortunate enough to find fabric that Grandma used to make the custom bedding set!
Q: I can tell from your nursery pictures that you have used many desirable pieces of collectible movie memorabilia to decorate the nursery and it looks amazing. Can you tell us a little about the items that you chose?
We dressed up some very old lamps with new lamp shades and we used some figurines of the characters to make the baby's crib mobile.
I love each and every item that I've collected through the years but as far as my favorite part of decorating the nursery, I would have to say the wall mural. The winding Yellow Brick Road with the Emerald City at the end makes you feel like you've just landed in Oz!
From the webmaster:
Shelley, your vintage nursery ideas certainly do qualify in this category! Thanks so much for sharing your Oz themed nursery pictures with everyone here at
Unique Baby Gear Ideas
!