Wizard of Oz Nursery Theme
by Angela
(Fayetteville, Arkansas, USA)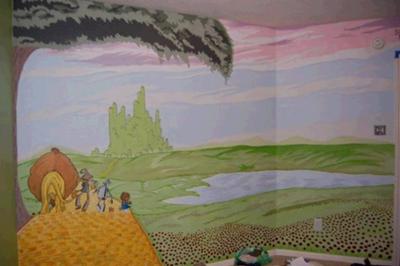 Hadley's Wizard of Oz Nursery - After 5 days of painting, I finished the mural on the large wall
We decided on a Wizard of Oz nursery theme after my husband took me to see Wicked on Broadway for our honeymoon in New York and we found out we were having a baby girl. I knew that a Wizard of Oz theme would be the perfect nursery for her.

SEE MORE HERE
I searched the internet until I found a picture that I absolutely fell in love with to use as inspiration for her wall mural. I asked the artist's permission and with his approval we moved forward with the focal point of Hadley's Wizard of Oz nursery theme.
I bought acrylic paint samples from the local hardware store, drew a rough sketch on the wall determining where everything was supposed to go and started painting. The entire wall painting took 5 days to complete. I love how it turned out; very soft and whimsical.
In addition to painting the wall mural I also bought flat canvas that I splattered with leftover emerald green paint. Then I cut poppies out of foam board and glued them to the canvas that give it a three dimensional look.
I made Hadley's crib mobile out of round wreath wire you can buy at any craft store and 7 different colors of ribbon. I cut the ribbon in equal lengths and hot glued them to the wire. The colors of the mobile are arranged according to the order of the colors of a rainbow, red, orange, yellow, green, blue, indigo and violet.
The day we learned that we were having a baby girl, I bought her a pair of red Converse sneakers and glued red sequins to them to create her first pair of "ruby slippers".
We received several of the decorative elements that were key to designing her
Wizard of Oz nursery theme
as gifts. We got a "Yellow Brick Road" sign, a toto piggy bank, a light switch cover, a handmade Wizard of Oz baby quilt decorated with ruby slippers and a ruby slippers rug for her room.
There are many shades of red and green in our nursery color scheme. And we were very pleased to find that it's really easy to coordinate colors with this theme. The Wizard of Oz is timeless so there is no worry that your
baby nursery ideas
will start to look dated. Plus, there is a ton of merchandise you can buy to use in decorating a a baby boy or baby girl nursery using this nursery theme