Vintage Baby Girl Nursery Ideas
Antique Nursery Furniture and Baby Clothes Decor

Mallori is sharing some excellent vintage baby girl nursery ideas with us including a framed wall monogram that I am anxious to make myself as well as examples of shelf displays and tips for re-purposed antique furniture.  This mom owns an antique store filled with vintage finds and is a genius at re-purposing old stuff and giving it an amazing new life in the baby's room as well as other rooms of your home. 

To be perfectly clear; her tips will not channel tired, dusty décor that makes you sneeze.
She has a unique way of bringing together the old and new that is fresh, exciting and very comfortable. There is nothing stuffy or drab in the way she does things so keep reading.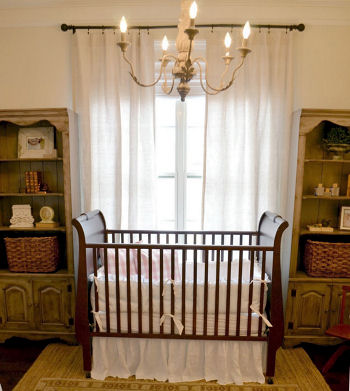 This
vintage nursery
is the picture of sophistication decorated in a
neutral color scheme
with pink accents that will easily grow with Mallori's daughter.
The décor is timeless and will transition well throughout a girl's early years or if need be, the pink decorations can be removed and replaced with blue or any number of other masculine colors if there is ever a need for a
baby boy nursery
.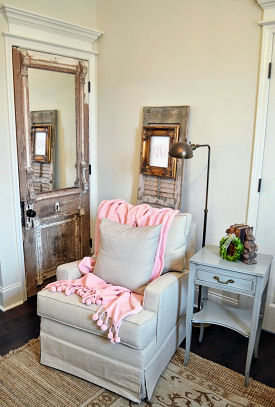 The natural linen upholstery of the glider would allow Mom to make a quick and easy change of the
nursery color scheme
anytime she likes.
in a neutral color can later be relocated for use in other rooms of the home which makes buying a quality piece with stain resistant upholstery like this beautiful chair an excellent investment.
Salvaged architectural items are one of my favorite vintage baby girl nursery ideas as they add a sense of history to the space.
The elegant pink monogram that is displayed on a distressed pink and green shutter shares clues as to name chosen for this lucky little one.
The old paint was sealed on all of the distressed circa 1800's distressed, mirrored closet doors as well as any other items for additional safety.
The antique dresser was an antique auction find that was purchased last year. The piece is a perfect fit for its location in the nursery and the Palladian mirrors. It serves as a changing table for the time being but will later transition into a dresser for an older girl's room.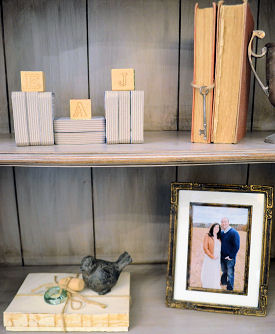 There is a display of vintage books, alphabet blocks and framed maternity pictures in the bookcases.
How to Decorate a Nursery with Vintage Toys
Old children's books and toys make excellent conversation pieces as well as nursery decorations especially if their provenance is known. An arrangement of toys that once belonged to a baby's ancestors is an excellent way to start a dialogue with a child about family history.
Don't despair if a collection of heirlooms has not been passed down to you as you can find decorations at flea markets and thrift stores or even stain and distress new items to look old.
I hope that you have enjoyed the vintage baby girl nursery ideas that Mallori used to decorate her daughter's room and that you will visit
her blog
to see more pictures of crafts and other items that she included in the décor. Please return to
Unique Baby Gear Ideas
to upload pictures of your vintage decorating project to inspire other parents.