Tropical Rainforest Nursery Theme Ideas, Baby Bedding and Decor
It's sad to think the popularity of the tropical rainforest nursery theme is due to its disappearance, isn't it? Yet, the baby bedding and decor that came from this situation are something to celebrate. Environmental awareness has drawn new parents' attention to the beauty of these vanishing jungles as well as the endangered species that call the rainforest home.



Visitors Who Stopped by for Baby Rainforest Nursery Theme Ideas Also Enjoyed these Pages:

NEW! Rainforest Baby Bedding

Tropical Jungle Baby Nursery Ideas

Rainforest Play Yards and Baby Gear



My first thoughts on a rainforest style of decor were that a jungle is a jungle. How different could an Amazon jungle be from the African jungle? I almost began gathering decorations without checking my facts and that would have been a big mistake on my part. I'm glad that I found some time to have the opportunity to study pictures of the tropical rainforest.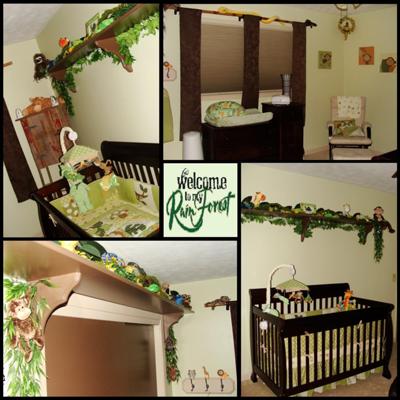 Go here to
see the large selection of wall decorations for your little one's jungle paradise.


When we think of this area beautiful colors and lush tropical flowers and foliage come to mind.


Baby animals also have a place in this theme.
How to Decorate a Tropical Rainforest Baby Theme
Between looking at pictures of the animals, flora and fauna of sub-tropical regions and the colors one might expect to see, decorating and painting ideas for a
tropical rainforest baby theme
started to confuse me. And then it hit me that, as with so many nursery themes, it would be best to refine the focus of the decor. It became clear to me that the best way to proceed would be to shine the spotlight on a particular animal, flower or insect common to this environment and build on that.
Animals of the Tropical Rainforest
Without having done a little research, I would have thought that decorating a rainforest baby theme would be similar to the classic jungle nursery themes. And there are a few similarities but it's much more interesting to feature the rare and unusual aspects of the rainforests to set it apart.



Rainforest Tree Wall Murals
If you are patient and artistic, you could paint a nursery wall mural with some of the trees of the rainforest. You might include the cacao with its large pods or the cecropia with its large leaves shaped like a human hand or the teak with its huge oval leaves. If the idea of painting the entire nursery wall with tropical trees and foliage is not your idea of fun, you could use wall stickers for most of the scenery and paint some of the leaves and fruit yourself. Don't worry about perfection and go crazy with details because you can always cover things up with stickers of tropical birds, butterflies and monkeys.

Decorating a Tropical Rainforest Nursery Theme Using Baby Animals that Live in the Jungle
The rainforest is home to some of our favorite mammals. Babies love all monkey themes from sock monkeys to Curious George, so large toy orangutans and gorillas will fit in with your nursery design. You can keep things interesting with the addition of spider monkeys, lemurs and a few common chimpanzees. Mix things up in the mammal department of your bedroom with some big cats like Bengal Tigers. This would also be a great time to teach baby that all Jaguars don't come with leather upholstery and four wheels!
Decorating a Tropical Rainforest Baby Theme With Colorful Frogs
Start with a set of infant's rainforest frog baby bedding and then decorate the floors and corners with some dwarf red eyed tree frogs tucked into special spots for baby to find on his adventures outside the crib. It's doubtful that you could find any sweet or endearing qualities of the poisonous varieties like the Poison Dart Frog, but the colorful red eye tree frogs make excellent decorative items.
Colorful Rare Birds of the Tropical Rainforest
Toucans and parrots are just a few of the wonderful birds of the Congo that you can add to your plants and animals decorations. Toucans are crucial to the rainforest because they are fruit eaters and disperse the seeds of the fruits in their diet around the rain forest. You will surely want one of these rare birds perched in your rainforest nursery's canopy.
Reptiles
Soft toy reptiles and lizards add just another layer to your décor. Some moms have refused to include toy snakes in their baby's room. The Amazon is famous for giant reptiles so if you are shooting for realism, a few toy snakes are essential.
Tropical Style Nursery Window Treatments
You might feel that less is more and opt to keep your windows open to the outdoors. If some sun protection is needed, gauzy green mosquito netting might be the key to keeping things feeling tropical while making the room dark enough for baby to sleep well during the afternoon nap.
At the time of this article, there aren't many choices in tropical rainforest theme baby gear, baby strollers or baby crib bedding sets available. However, I look for baby product manufacturers to jump on board as organic baby items and environmental awareness is becoming more fashionable and stylish every day.
Please visit Unique Baby Gear Ideas' gallery of nursery pictures to find more rainforest themed decorating tips.
SHARE IDEAS and PICTURES OF RAINFOREST NURSERY DECOR
Do you have a great set of rainforest theme baby bedding or a picture of a nursery that you decorated with rare, endangered species? Share it!
RAINFOREST NURSERY IDEAS
Click below to see contributions from other visitors to this page...

Pink Rainforest Baby Nursery Theme - Small Room on a Budget

My baby girl's pink rainforest baby nursery theme was designed to be functional in a very small space and all decorative items including the bedding were …
Rainforest Baby Nursery Not rated yet
My husband and I thought a rainforest baby nursery theme was appropriate since we got engaged while we were in Australia's Daintree Rainforest and spent …