Fisher Price Play Yard
If you need some help to keep baby safe while working, a Fisher Price play yard may be just what you need. This handy playpen is good for giving a small child a sense of independent play while mom keeps a watchful eye from a short distance.

It's difficult to let a crawling, toddling baby learn to entertain himself if I always have to be close by to remove non-baby safe items from his sticky little fingers! If he's in the Fisher Price Bounce N Play activity yard I can control to some degree what he has access to.



Getting work done while raising a little one is a challenge. I have found that each stage requires a unique sort of baby gear to help with this task. For an infant, the baby sling was invaluable. We have since graduated from this sanity preserving device to a backpack baby carrier. The backpack carrier is great because dear daddy considers it to be a suitable manly activity to tote baby in it thus resting my aching back for a few minutes. I can even vacuum with baby in it, but the heavier he gets the less enjoyable this is for mommy. I felt the next level of necessary baby gear would be a larger play yard more suitable for toddlers.
See reviews, pros and cons of the Fisher Price play yard and others on our list of the Top 5 favorites of parents.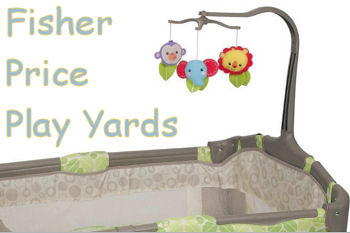 Go Here to See More
First, "baby playpens" are now called "baby play yards". I suppose somebody felt that it just didn't sound that good to say that their baby plays in a pen. Images of a caged baby aren't pretty. Baby play yards sounds much better. The qualities I look for in baby play yards is more than baby gear that will limit baby's range of travel INSIDE our house. I want a pretty baby play yard with an easy clean rubber mat and a baby play yard cover if I want to use it in the yard on sunny days.
After doing some research and reading some helpful consumer reports and product reviews I find that the Fisher Price Play Yard is for indoor use. A friend offered me the use of her baby girl's Fisher Price Bounce n Play Activity Yard so I thought I'd give it a try even after I read a review where one parent considered it dangerous. She said that her baby was able to pull the support rods out of this particular baby play yard when the canopy was down.
I gave the play yard a good inspection and couldn't see how the baby could possibly pull the rods out of this particular play yard dome and pronounced it safe to try. In spite of the fact that many didn't consider this to be one of the best baby play yards, we used the Fisher Price Bounce n Play Activity Yard for several months with good results. Then my friend called asking if she could "borrow" the play yard as her sister needed it. I was back in the market for another play yard. I probably would not be able to find another free one but I hoped that at least I could find an inexpensive one.
After having such a good experience with the Bounce n Play, I went looking for another option. I came across the play yard in another pattern which fit in my nursery decor very nicely; actually better than the very colorful Fisher Price Bounce n Play Activity Yard. This one is almost too big for an indoor play yard. I was accustomed to dragging the Fisher Price Bounce n Play Activity Yard around the house so that I could keep my eyes on baby while doing my work, but dragging the Fisher Price play yard that I now owned would be a challenge!
I don't mean to say that I regret buying this Fisher Price Play Yard. The size took some getting used to, but a bigger baby needs bigger stuff! Some people buy the Fisher Price play yard with bassinet as a set! This play yard is cute as pie, has a nice color scheme that blends with my nursery decor and keeps baby safe. The sides are tall enough that baby has not given climbing over a try and the footprint is large enough so that he can play with his toys.
We are nearing the time when there's no piece of manufactured baby gear that will hold this little girl, but for now the Fisher Price Play Yard is getting the job done.
Return to Unique Baby Gear Ideas for more reviews on modern baby gear and items for your nursery.