Tink Pink White and Black Baby Girl Nursery Decor
by Ashley
(Henderson, NV. USA)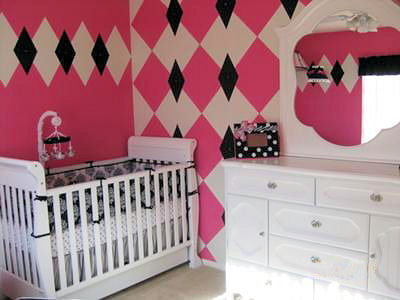 Baby Girl's Pink Black and White Nursery with Argyle Wall Paint Technique and White Nursery Furniture
As you can see our ideas for pink, white and black baby girl decor is bold and bright! We call our unique color scheme "Tink Pink" in reference to Disney's Tinkerbell fairy and the color we chose to paint the wall.


The argyle painting technique was more of a challenge than we were prepared for. We consider ourselves to be very fortunate to have such amazing painters in our lives which, with our help, created the beautifully painted artwork that .



Before we started painting the argyle pattern, we gave the walls a fresh coat of paint from ceiling to floor.
Go here to see more
The argyle wall was created using square and diamond templates to start. The wall was measured in 6,11 inch squares all the way across and then connected to make 22 inch diamonds.
Then, the other walls were measured, masked off, and then painted.
The small black diamonds were the last abstract shapes to be painted and once the were dried we applied a small jewel as an accent.
We chose white nursery furniture to make the walls pop.
Our nursery glider,from Walmart, is black to add a little depth to the room. As amazing as it looks; it also adds a lot of comfort.
The baby bedding that we chose is a somewhat busy pattern but not so much that it throws the layout of the baby's room. The crib set was purchased from JCPenny's online.
The lampshades are simply decorated using tulle fabric, mirrors, ribbons and a feathered boa. They are hung with lightweight fishing line so they can spin and move.
The simple cafe style curtains made from matte black material were made by my mother.
I know that Alissa will love the beautiful pink nursery that we created for her for many years to come!
I hope that
Unique Baby Gear Ideas
' visitors enjoyed seeing Alissa's nursery and that our project will inspire others to do something bold and unusual rather than the same old designs we have seen over and over for so long.