Paint an Argyle Nursery Wall to Complement Baby's Room Decor
by AC
We have color combinations and pattern ideas to inspire you DIY'ers to paint an argyle nursery wall in colors that will complement the decor in your baby's room.



I noticed an adorable pink and black argyle pattern outfit for a baby girl a moment ago that brought this design to mind.



The black and white diamonds (the thinner painted line that defines the pattern is almost invisible in the pictures..sorry!) create a bold border just below the crown molding at the top of the nursery wall.
Go here to see
more argyle nursery ideas and baby items.
The black and white diamonds really stand out on the hot pink wall paint color.
White, Black and Pink Argyle Nursery Wall Paint in a Baby Girl Nursery
The argyle accent wall in this baby boy's nursery features letters that spell out the little one's name hung in the center of each motif.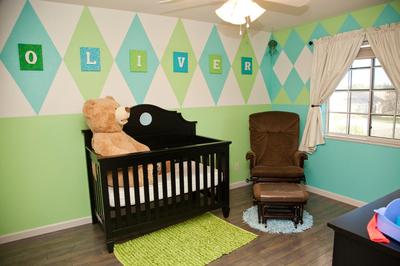 Argyle Accent Wall Paint Design in a Baby Boy Nursery
This room has a blue and white pattern painted on the walls with a cloud ceiling mural painting overhead!
The combination of the cloud mural and bold wall painting technique is very dramatic as is the story behind the nursery's theme.
There are many possible color schemes and themes that will be enhanced by an argyle nursery accent wall that you can easily create by drawing your own pattern. If the notion of painting your own design makes you nervous; an accent wall can easily be achieved using wallpaper or decals. I once managed to cover all four walls of a LARGE room from floor to ceiling and if
Unique Baby Gear Ideas
' other visitors can do it so can you!