This Pink and Green Baby Nursery was Decorated for $150
by Jan
I have a secret to share with all of you today. This pink and green baby nursery was decorated for $150. Yes, you read that right and the figure is correct with no typos; $150.


I could have made everyone wait until the end of the tour to reveal exactly how much was spent decorating the room but that would have been jumping ahead of my story.



Zoey's mom, Delilah, began giving what was once the guest room a makeover to serve as a nursery knowing from the very beginning that she was working with a very limited budget.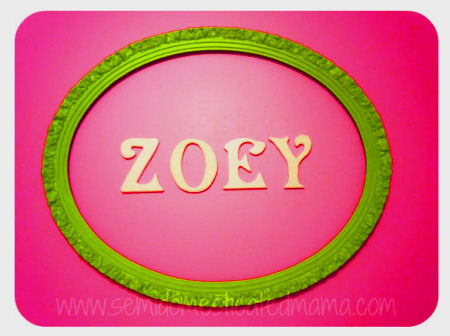 Go here to see more
To bring the project in within budget she repurposed items from other rooms of the home and basically put her imagination and creativity to the test.
Here's another spoiler; she passed with flying colors.
One of my favorite decorations in the room is Zoey's name framed by a lime green oval frame. This old frame had been in the family's garage until it was painted with green wall paint and put on display. The wooden wall letters were picked up on clearance sale for a song at Hobby Lobby but here I am jumping ahead of myself once again.
The
first
step taken to transform the space and make it fit her baby girl's personality was to change the color of the walls from a dark (navy?) blue to a pretty combination of bright pink and lime green. It took a LOT of paint plus a coat of primer to cover the blue paint but as you can see the results were worth every bucket and brush stroke!
The combination dollhouse bookcase that belonged to Zoey's big sister and the armoire previously located in her brother's room were moved into Zoey's new room after the walls and trim were painted and the carpet was steam cleaned.
And then Delilah accomplished what so many of us only dream of; she found matching curtains at Walmart. I NEVER get that lucky, do you?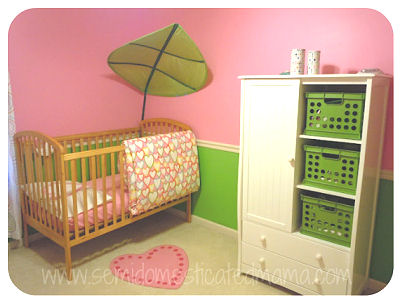 The crib belonged to one of Zoey's older siblings. Mom expressed regret that her crib was not white but I think the natural wood finish looks really nice in the
pink and green baby nursery
.
And of course we have to get a closer look at this sweet baby girl's bedding set!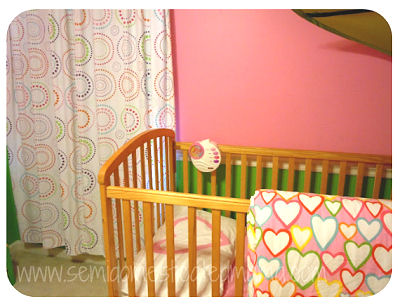 The heart print crib duvet, Zoey's pillowcase, the green baby blanket and the large, green leaf were all found at IKEA. The coordinating pink fitted crib sheet came from Target. Delilah really has a knack for putting things together! I'm amazed at how well the circles and polka dots of the curtains and the hearts in the bedding go together not to mention how the colors all seem to match perfectly. Seriously, that is impressive.
The polka dot tins that we see on top of the baby's armoire at IKEA were in the bathroom section at IKEA and even they turned out to be a super match to the nursery curtains! The bright green storage bins came from Target and once again, the perfect color!
What a lovely baby girl nursery design this is! And it's all the more outstanding knowing that it only cost $150 from start to finish. I know that's really hard to believe but it's true. You can (and should) visit
Confessions of a Semi Domesticated Mama to see the price breakdown and more of Zoey's nursery pictures.
Before you visit Semi Domesticated Mama, please leave a comment here on
Unique Baby Gear Ideas
to share your opinion on the design of Delilah's room.