Patchwork in a Baby's Teddy Bear Theme Nursery is Delightful
by Laura
(Berkshire, UK)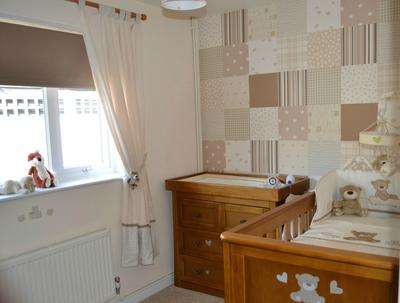 Unique Patchwork Wall Covering in a Neutral Teddy Bear Nursery Theme Room Design
I stumbled upon some clever ideas to include patchwork in a baby's teddy bear theme nursery looking for neutral nursery inspiration. I knew that I wanted to decorate with unisex colors but it took me awhile to put together a design since I couldn't find anything that was "different" that suited me.


Most of the examples of decorated nurseries that I found had plain, painted walls decorated with stickers and had no real personality.



Then, one day I saw a pretty pink patchwork wallpaper that gave me the idea of designing my own DIY patchwork wall covering.
Go Here to See
more teddy bear items to personalize your baby's room.




I researched a lot of different wallpapers that featured shades of brown and cream and brown in various patterns until I had gathered a collection of 11 different designs that were suitable for a baby's room. I then measured the walls and worked out the measurements that I would need each "patchwork block" of paper to be.

Once I had determined the sizes, I cut all the papers into squares and then used wallpaper paste to stick them to the wall in a random fashion.

The layout was not planned; I just applied one patchwork block at a time and then looked at what piece should be hung next.

After the nursery walls were covered I coordinated the crib set and the curtains with the patchwork walls, to complete the baby's teddy bear theme nursery.

Decorating a nursery for a baby is time consuming, but the effect can be amazing and so sweet and original.

Unique Baby Gear Ideas thanks Laura for sharing her neutral nursery ideas and her teddy bear themed baby boy nursery pictures with our visitors.
Join in and write your own page! It's easy to do. How? Simply click here to return to TEDDY BEAR THEME NURSERY PICTURES and DECORATING IDEAS.