How to Make Your Own Faux Fur, Fake Bear Rugs for Kids Bedrooms and the Baby's Nursery
Whether your taste is along the lines of Care Bears or fake bear rugs that look  remarkably like the real thing, there are excellent selections in faux fur that will decorate your floors, or for that matter,  your walls and you can make your own perhaps for much less than you can buy one. 
Hunters might want to learn how to tan and prepare animals skins themselves.
But most new parents just want a decorative floor covering that is soft, warm and that came about with no animals harmed in the process.
Not so long ago the only bears that might be found in children's rooms were pastel teddy bears. Perhaps the stories of ferocious grizzly bears that got the best of our ancestors while they were laying their claims to hunting rights.
Rustic Bear Nursery Decorating Ideas
Bear Baby Bedding
Rustic Teddy Bear Nursery
Crossing the mountains and prairies and fighting wild animals while taming the wild west were too fresh in the memories of our ancestors to welcome anything less than a plush, toy bear into our kids' bedrooms or the baby's nursery.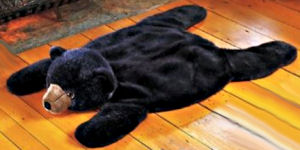 Go Here to See More
There is now more interest in increasing efforts to save the bears and their natural habitat than hunting them down for their meat and skins. Environmentalists are busily raising awareness of the plight of polar bears and the grizzly and there's a few brave souls that have ventured out to live among the bears in order to understand them better. As strange as it sounds, this may be the reason behind the rising popularity in realistic, but fake bear rugs.
Tutorial with Instructions on How to Make Your Own Faux Fur Rug
Faux fur bear skin rugs are being incorporated into our home's decorative accessories and layered on top of wall to wall carpet and wood plank floors alike. No more restrictions that say teddy bear rugs only in the baby's nursery; fake black bear skin rugs with soft fur and friendly faces are on the floors to complete the rustic, log cabin style baby nursery theme's decor.
Where to Use Bear Area Rugs
Faux black bear skin rugs are relatively versatile, but there are certain styles of kids' bedrooms where these rugs really shine.
Rustic Nurseries
Log Cabin Nurseries
FishingTheme Nurseries
Hunting Theme Nurseries
Fake bear skin rugs would fit well on the floors of most any natural room design where an outdoors-y atmosphere is desired. Some decorators don't restrict the use of bear skin rugs to the floors; they buy mounting hardware and mount them on the walls, a slanted ceiling, over the fireplace or stretch them from side to side and top to bottom of the bedroom or nursery door.
I prefer faux fur or fake bear skin rugs, but many sportsmen like the idea of an authentic black bear skin rug. If this is your preference, you might contact someone that is into taxidermy to see if they have any bear skin rugs for sale.
Return to
Unique Baby Gear Ideas
for suggestions on how to design rooms where polar bear or grizzly bear rugs would look really cool!