Blue Jean and Teddy Nursery
by Lisa P
(Minnesota, USA)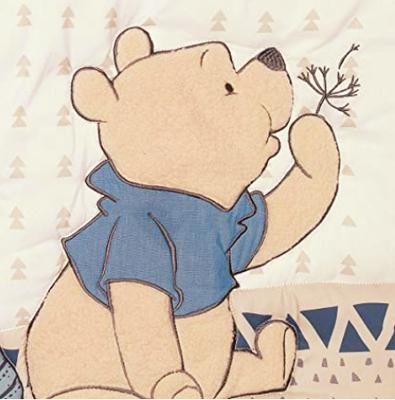 Blue Denim Pooh Bear Quilt for a Baby Boy Teddy Nursery Room Theme
Our son's blue jean and teddy bear nursery came about after finding a bedding set that my husband and I both fell in love with. When we learned that we would finally be decorating a nursery for a baby boy I started to prepare for the long awaited event.


I bought paint in two shades of blue and used a Woolie painting technique that and blended them together to achieve a faded denim look that really does look like a pair of old blue jeans.





The crib quilt in this set features Pooh Bear enjoying a spring day spreading dandelion seeds wearing an appliqued blue denim shirt.
After the walls were done, I trimmed the baseboard and molding using the lighter color blue. Next, I shopped for a paint color that we could use for the crib so that it would match the baby bedding but not melt and disappear into the wall color.
I could not find a green to match, so I took my blanket in to a hardware store where they did a color match on a machine. The store clerks had their doubts, but when it was mixed it matched perfectly! I cried tears of joy right there in the store much to the embarrassment of my teenager.
I cried again a year later when I took the crib down and my son had refused to sleep in it. He was terrified of the crib for some reason and had to make other sleeping arrangements. The next step is Godzilla or Spiderman bedding. The good thing is that both of them should go well with the denim blue nursery walls that we did for the
blue jean and teddy bear nursery
.
I hope that the moms and dads that visit
Unique Baby Gear Ideas
have enjoyed reading about our son's room as much as we enjoyed decorating it.