Baby Surf Crib Mobile Ideas with Beach Themed Decorations for Surfing Fans
We have some ideas for making your own baby surf crib mobile with beach themed decorations that will most surfing enthusiasts already have on hand. The starfish, seashells and tiny surfboards will mix and match beautifully with most of the Hawaiian print crib sets for sale in stores.






Baby Boy Surf Nursery Ideas

If you have a collection of seashells in the closet left from your last beach vacation; now may be the perfect opportunity to relive the memories by including them in the baby's nursery décor.



Surfboard Theme Nursery Decorations

Surfer Baby Nursery Ideas



The joy of surfing is a gender neutral sport and so are surf crib mobiles! Both guys and girls are all welcome to ride the ocean's waves and hang ten with no discrimination, so why sweat the small stuff when it comes to crib decorations in a surfing theme nursery?




It's easy to make your own surf themed mobile using a second hand frame that you found at a yard sale or a new one purchased online or at a local crafts store. Add whatever decorations you like to the display.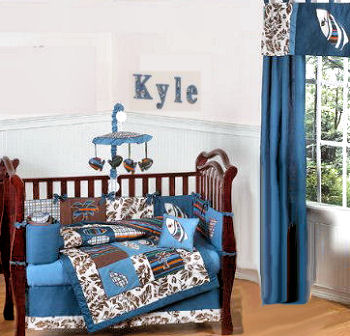 Go here to get more
ideas for decorating a surfer themed nursery for a baby boy or girl.
Here are some tips:
Seahorses
Seashells
Starfish
HERE
is an picture of a ceiling mobile made from inflatable beach balls that is perfect for a
beach baby bedding set
.
Silk hibiscus flowers are a colorful fit for an Hawaiian baby nursery.


Matching Colors
Take a fabric swatch from your baby bedding set collection along when shopping for decorations to get a good color match.
Keep in mind that although the surfing theme is neutral you might make the décor gender specific by shopping for items that contain pink or add a touch of blue.