Tropical Hawaiian Baby Nursery Sets Quilts and Crib Bedding
Hawaiian baby nursery sets are just too cute and cool to resist. So what if you don't have time to go be-bopping through the bungalows surrounded by dense tropical foliage? We'll celebrate the sun, sand and surf with baby with carefully chosen Hawaiian print baby bedding, sheets and mobiles and other items associated with Hawaiian decor. For a baby girl an Hawaiian baby crib bedding set with a lotus blossom print on a field of hot pink, blue or even purple will be grand.




Hawaiian Hula girls with grass skirts and leis are other Hawaiian pictures you may want to include in your Hawaiian print baby bedding.
Hawaiian print baby bedding for a boy might include surfing prints while a crib set for a girl might feature hula girls. Hawaiian baby nurseries are all about tropical prints light as a ocean breezes, Tiki huts and waiting till the surf is up! Every single shade of blue on the color wheel is acceptable for use in Hawaiian print baby crib bedding.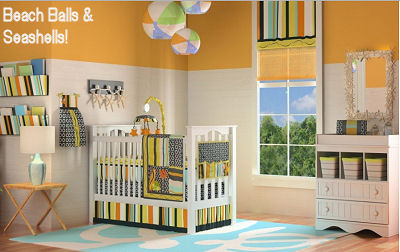 SEE MORE HERE
The great news is that there are so many lively colors that can be used in contrast to the tropical blue colors in these cool new Hawaiian print baby nursery sets.
The latest trend in Hawaiian crib sets is to blend an assortment of fabrics including traditional Hawaiian floral designs with stripes or something cute like sea turtles.


An example of modern Hawaiian print baby crib bedding would be to take one fabric printed with large tropical flowers and some striped fabric with the same colors and combine the two. Mixing and matching of different prints is what gives the new nursery bedding collections a cool new look. Consider them Hawaiian print baby bedding with a twist!


You may want a traditional set of Hawaiian print baby bedding. There are lots of ways to give your baby's crib a vintage Hawaiian theme. I have seen some damaged adult size Hawaiian print quilts that were salvaged by cutting off the damaged portion of the tropical print fabrics. The remaining part of the quilt was made into precious little Hawaiian print baby quilts! These appliqued baby quilts in traditional Hawaiian designs were accessorized with tropical Hawaiian print baby sheets and blankets to make one of a kind and truly unique Hawaiian baby nursery sets. A grass skirt was trimmed to size and used as the dust ruffle or crib skirt. The grass skirt look was carried to the window treatments with a hula skirt nursery window valance.

And then there are the Hawaiian baby nursery sets that have no floral prints whatsoever. For baby girls this would be any beach themed bedding sets including baby bedding printed with flip-flops and for baby boys bright and colorful surfboards. Accompany your baby bedding with some Hawaiian accessories and your bedding will appear to have always been designed to Be Hawaiian baby nursery sets. The lesson here is that Hawaiian print baby bedding can have any number of tropical theme motifs and still give you lots of nursery decorating ideas for perfect Hawaiian theme nurseries.
You will want LOTS of the fun Hawaiian theme nursery accessories to go with your baby bedding.Hawaiian mobiles with tropical fish, palm trees and a few octopus usually coma with each of the Hawaiian baby nursery sets. Paint a tropical mural on the nursery wall and colors that will match your Hawaiian baby bedding and there you go; Hawaiian baby nursery décor at its best.
Don't limit yourself to the Hawaiian nursery decorating ideas and styles of Hawaiian baby nursery sets that I've listed here. Take a good look at your Hawaiian baby nursery bedding sets for possible tropical color schemes decorating ideas and be imaginative and your selections!
Please make plans to visit Unique Baby Gear Ideas often to see the latest Hawaiian Baby Nursery Sets and Tropical nursery decorating inspiration.