How to Make Your Own Children's Silhouette Wall Art for the Baby's Nursery and Kids' Rooms
Silhouette wall art is so simple and easy to create in part because the only supplies that are absolutely necessary are paper, a pair of scissors, children's clipart images and picture frames. Within a few hours kids could decorate the walls of their rooms of the baby's nursery with lovely portraits. With a little help from mommy and clear pictures of themselves or even the family pet, the silhouette art becomes even more precious and personal.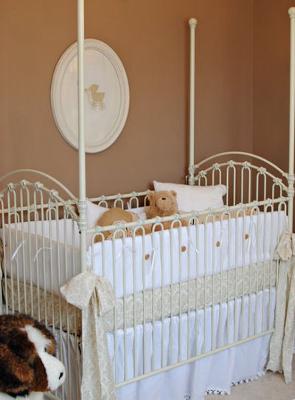 See more examples of framed silhouette wall art in a classic vintage baby girl nursery here
Since pictures of silhouette wall art has been showing up in entries sent into our nursery photo contest, I've had several requests from moms in the process of decorating a nursery asking for instructions on how to make silhouettes. After seeing a wall filled with female silhouettes in a girl's bedroom in a high end home magazine, parents are interested in ballerina dancer silhouettes for a baby girl ballerina nursery, dog silhouette images for their baby boy nurseries and mother and baby silhouettes to frame.
Where Can I Find Free Silhouettes to Download
Ok, so you don't want pictures of your own children and pets; there are plenty of websites offering free silhouette clipart that you can download. However, assuming that you landed on a website loaded with nursery decorating ideas because you are looking for
pictures for a nursery
or other baby related stuff; we'll put the spotlight on where you can find a
free silhouette baby footprint
to use on silhouette baby shower invitations, a silhouette of a baby, a mother and baby silhouette or other graphics that you can frame and use to decorate the walls of your children's rooms.
Originally silhouette portraits were created without tracing or even drawing a profile on the paper. The artists used only their scissors and paper. Today, the framed cameos we see decorating the baby nursery walls or older children's rooms are most likely either traced or wall decals made with a machine and a computer generated image although there are still artists that prefer the original method rather than doing things the fast and easy way.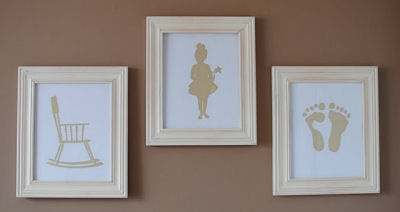 See more examples of silhouette art for children here


Silhouette Machines to Make Silhouette Wall Decals and Stickers


I should warn you that making silhouette wall art is downright addictive! For the truly obsessed, a Silhouette machine is a worthwhile investment. You can easily make silhouettes using images that you download from the Silhouette store, cut out letters and borders for your artwork and just have a blast!


How to Make Silhouette Art Without a Computer
Less than talented silhouette portrait artists can make a pretty respectable image using a bare light bulb, a pencil and paper. The only problem with this method is that your subject must sit completely still. Children tend to wiggle so you have to be very fast or have very calm kids. If you have a digital camera, it's just easier to take a picture and enlarge it.
How to Make Silhouettes Using a Computer Photo Editing Program and a Digital Camera
I'm pretty lazy when it comes to creating art, but it's so easy to make your own pictures that it would be a shame not to make silhouettes of your own babies, children, dogs, cats or birds from photos.
Don't worry, I'm going to provide a list of the best sites that offer free silhouette clipart, vector files, etc. after these instructions.
Here's a step-by-step tutorial for making your own, personalized silhouette wall art using the technology available to me at the time of this article.
Step 1. Take a profile picture of your children, dog, cat, bird from the side using a solid white background and save it in your computer. The solid background makes it easier to remove with your computer photo editing program.
Step 2. Open the photo using the picture editing program.
Step 3. Use the Magic Wand tool to select and highlight the white background of the picture for removal, click edit and then cut which will leave only the portion of the image that you plan to use in your silhouette art.
Step 4. To make the image solid black, go to image, click adjustments and remove all of the color by selecting the color de-saturation option.
Step 5. Make the edges of the image sharper and by choosing the brightness/contrast option in adjustments. This will increase contrast so that your image starts to take silhouette form.
Step 6. If the image needs tweaking, choose black as your color selection, put the cursor inside the outline of the image and click away until you are satisfied. Step 7. Size the image using the image tool and then save in JPEG format.
Step 8. You know have the option of either burning it to a CD and taking it to a local shop for printing, sending it to an online photo printing website or printing it yourself using your own printer. If you would like to share pictures of original silhouette wall art that you made or baby nursery ideas, please use the form on this page to upload your photos and instructions provided for your convenience.