Fun Scrapbooking Baby Shower Theme Ideas and Invitations
I have some scrapbooking baby shower ideas that will entertain the guests PLUS friends working together on a scrapbook will be much more fun than playing boring games. What a great way to help the new mom cherish memories of her baby shower!


Scrapbooking Baby Shower Invitations
Every successful shower starts with cute invitations and craft-minded hostesses may want to make their own scrapbook themed cards. But if time is short, here is an example of a very cute scrapbook baby shower invitation that is available to buy online for a very reasonable price.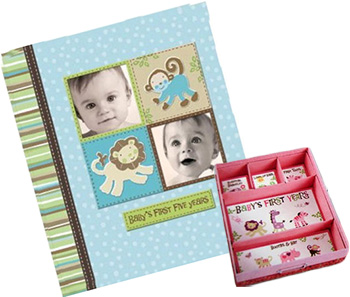 Go here to see
more supplies for your craft and scrapbooking projects.

Setting up the Scrapbooking Station
After the guests have RSVP'ed, you will know how many tables and chairs, supplies, etc. to have in place at your art station.


Supplies
The supply list will vary according to the scrapbooking baby shower ideas that the hostess has in mind but the basics that would need to be on hand would include:
A baby shower scrapbook
Stickers
Letters
Decorations
Glue
Tape
Colored Pens and/or markers
SHARE YOUR BABY SHOWER IDEAS!
Tell us about your shower!
Personalizing the Baby Shower Scrapbook
As each gift is opened, the mother-to-be to be will be asked to pose to have a photo taken with whomever gave her the gift. After all of the gifts have been opened, the hostess will quickly print the pictures on photo paper. If you have a portable printer you can quickly make prints from the SD card in the camera while the guests are socializing.
After the prints are ready, pass them out so that a picture of this special moment can be used as part of each guest's scrapbook page.
I believe you will find that using these tips instead of, or in addition to, the usual games and activities will make your party more fun and interactive. The guests will enjoy taking part in creating the baby shower scrapbook and happy that they aren't asked to play BORING games. And the greatest thing of all is that their friend gets to take home a special book filled with memories of the day. And that has to be the best gift of all!
Thanks to Brooke Still of Georgia for sharing her ideas for a baby shower scrapbook theme with us.
It's so nice when visitors that stop by Unique Baby Gear Ideas share their tips and recommendations for creative, new baby shower themes.