Round Cribs for a Baby's Nursery
On this page we will explore pros and cons of round cribs. Some moms say that they chose round baby cribs because they have a small nursery that laced the space for a rectangular shaped one. Other moms chose to go with a traditional bed in spite of having little room for several reasons. One thing that all seem to agree on is that round baby cribs are so pretty.

Visitors Shopping for Round Baby Cribs and Bedding Also Enjoyed these Pages:

Crib Sheets

Round Crib Mattresses



The opinion that the round shape is better for a small nursery than a rectangular shaped one is widespread but there is a concern that babies might quickly outgrow a round bed and there is no conversion option. Opinions that seem to run hot and cold on many points tend to come together in agreement on the beauty and visual impact of these baby beds. On that issue, most of us agree that a nursery with one of these cribs is striking.


Most parents who choose round over rectangular have a vision for their baby's room and an eye for design but are round cribs as safe as traditional cribs?
And there are times when a round baby bed is simply the crib of choice if the mom-to-be fancies something different for her little one's room so that it will be unique and stand out.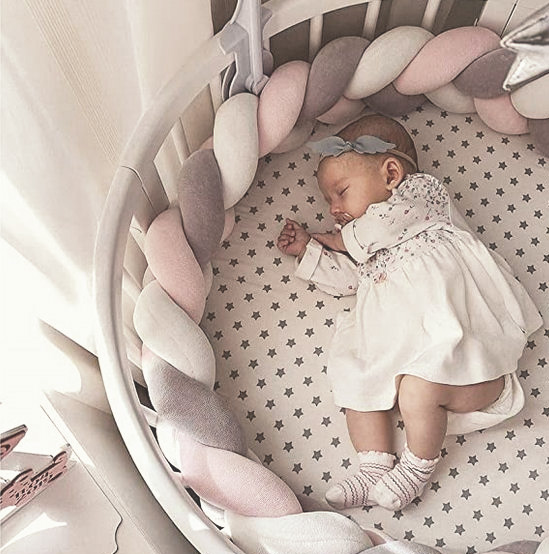 Go here to see
more beautiful baby bedding sets for round baby cribs in the latest colors and patterns.
Many have canopies but whether or not you choose to use a canopy is up to you.



Price
It is true that the charm and visual appeal of these baby beds comes with an elevated price but the cost is not that much more than a standard sized bed. They may have unfairly earned the reputation of being outrageously expensive since, if you shop carefully one can be found for very competitive prices.


Pricing
At the time of this article, Angel Line offers an affordable style that includes a round crib mattress for slightly over $400 and brand new, solid wood round baby crib with canopy sold in an Ebay auction for approximately $300 with free shipping. While those prices are not what I would call cheap, they are reasonable and within reach unless you are working with an extremely tight decorating budget.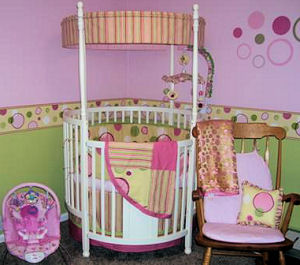 Pink Yellow and Green Girl Nursery
Custom Cribs
The most common name tossed about in discussions regarding custom cribs is the Little Miss Liberty crib company. This manufacturer has selections that range in price anywhere from $800 to upwards of $2,000 for their twin or double round baby crib (the duetta which is Italian for two) for multiples. Their themed cribs include Winnie the Pooh, carousel horses and a garden cottage style. They also offer free dome canopy kits, round mattresses and a selection of exclusive crib bedding sets.

There are other companies that have custom offerings that have been hand painted to reflect many popular themes from bunny rabbits to monkeys and the occasional green frog with cute, hand carved finials in the shape of characters or in the same themes as the paintings on the bed.
How to Personalize a Round Baby Crib
A cheap way to give your round baby crib a personalized look would be to buy a cheap round white crib and paint it yourself. There are several clever painting techniques that you can use to personalize your baby's bed including stenciling a monogram or your baby's name on the solid portion of the wooden side of the crib, painting simple motifs that complement the theme of the room or painting a scene that is an extension of the baby's room design.
Pros and Cons of Round Cribs
Depending on the layout of your nursery, the pros of round cribs can far outweigh the cons. Here are some of the advantages of spending the extra cash to go round rather than square:
The easy access to baby from all sides through the single or drop down rails is a big benefit.
Many consider the lack of corners to be of the many layers helpful in the prevention of Sudden Infant Death Syndrome
As with any product, there are pros and cons associated with round cribs even beyond issues of the more expensive price. Here is a quick reference list of details you make want to take into consideration before making a purchase:
One of the biggest drawbacks is that they are not convertible into a toddler bed and your baby boy or girl won't be able to sleep in a round bed as long as in a classic crib.
In order to get the most benefit out of the drop sides and easier access to baby that round cribs offer, the bed must be positioned away from the nursery walls. If you are working with a small nursery, this is not the best use of floor space
At the time of this writing I see no organic, round crib mattresses for sale.
The width of the crib is wider than most standard door frames which means that the casters are handy in moving the crib from one area of the nursery to the other but the crib will not be mobile from one room to another without having to at least partially dismantle it.
Custom cribs can have a shipping delay of up to 8 weeks. If customizing is desired, plan ahead or have a bassinet on hand to use until your baby's bed is delivered.
The selection of round crib bedding sets has expanded tremendously but is still more limited than that of classic nursery bedding. I have found that many parents who choose a round bed prefer to make their own out of fabrics they select themselves so this may be a non-issue to them. But I still felt that I should mention it to shoppers who might have to rely on ready made sets.
The Bottom Line
In closing the best advice that I can offer is to make an honest assessment of your lifestyle, decorative preferences and the size and shape of your nursery to see if a round baby bed is the best choice for you and your newborn. Don't discount round cribs because they are too pricey because if they can make your baby more safe and comfortable plus make your nursery more remarkable they are worth every penny.
Return to Unique Baby Gear Ideas to find more nursery ideas and decorating tips for moms who would like to explore the advantages of a round baby bed.