Pretty PInk Chandeliers for a Baby Girl Nursery
Nothing says GIRL like pretty pink chandeliers. Crystals, beads and dainty mini shades will give your baby girl's nursery or bedroom a whole new look! A mini chandelier or full size chandelier in pink is not just a light fixture, it's a fashion statement. A fanciful ceiling light shows an attention to detail on the part of the decorator.






How often have you studied pictures of decorated rooms and felt that something was lacking or slightly off? A good rule of thumb is that if the bedroom is resplendent in luxury furniture, bedding and accessories there must be a ceiling fixture that follows suit. To decorate the ceiling with a plain flush mount light in a sumptuous setting should be against the law! To be certain, such a practice is against all contemporary decorating rules.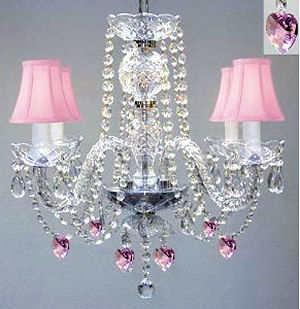 Go Here to See More
The prices of nursery lighting are beyond the reach of so many of our decorating budgets which leave us no choice but to shop the thrift stores (or scrounge about in our own attics) nd get creative with a can of spray paint.
Pretty ceiling lights in a pink nursery is so important to the overall atmosphere of the room. Would you really want less for your little princess' room? If the size of your space won't support a large chandelier, there are mini chandeliers in pink as well that offer lots of decorating possibilities in a small package. Many nursery themes for baby girls would benefit from pink chandeliers from princess rooms fit for royalty to casual décor in pink gingham checks.


We often associate pink bedrooms with young girls, but these dainty lights are not just for young girls. It's a known fact that ladies of a certain age prefer pink lamp shades and bulbs because of the flattering effect they have on the complexion. Subdued lighting with a touch of pink has a way of brightening the skin and lifting the mood.
Once baby has outgrown her crib, don't discard the pink chandeliers. Simply relocate them to the master bedroom! Girls of all ages will fall in love with the sparkling pink crystal prisms and beading. If you have an old chandelier, you can always give it a quick and easy makeover with some elegant pink lampshades and special pink bulbs.
Return to Unique Baby Gear Ideas for more ways that inexpensive pink crystal chandeliers can brighten your girl's room with stylish charm as well as light.