Mad About Plaid Curtains and Baby Bedding Sets
No more dark and dull plaid curtains and drapes that belong in a man's den or in the billiards room of a Scottish castle. Plaid material has become much lighter and brighter and the colors have made it a very attractive and appealing decorating option for every room in the home. Modern plaid window treatments are made from light and airy silk fabrics and bright colors and there's nothing stodgy and dull about them.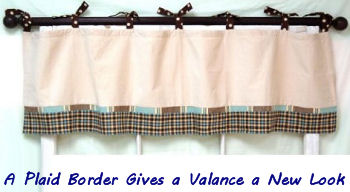 Plaid comes in so many cute colors that can be used in a baby boy nursery that is completely theme-less.
They are seen in cheerful colors including pink and green plaid or blue and yellow plaid prints sewn from silk and lightweight cotton. The fabrics are available every weight from upholstery fabrics and lightweight silk to delicate cotton flannel that is so soft that the remnants can be used to make a baby's receiving blanket.
But a
plaid baby bedding
set works well in a
farm baby nursery
or
puppy nursery theme
.
Music lovers might consider popping a bit of this print in their baby's rock and roll nursery.
A set of
rock baby bedding
with matching window treatments will rock the house in a guitar themed room.
If collegiate stripes and preppy nursery decor are more your taste, look no further.
A
nautical baby theme
is the ideal setting for this classic fabric in red and navy blue.
Plaid curtains also have a place in a baby girl nursery decorated in classic French toile fabric.
Even the most elegant of valances or window toppers benefits from a scalloped plaid border.
The average person tends to pigeon hole plaid designs in two categories: Traditional Scottish Plaid or expensive Burberry. I hope that you will have a more open mind and experiment with blending your plaid curtains with more unique prints and patterns.
There's no need to hem them and leave the edges plain and unadorned. A tailored valance with covered buttons, plaid balloon shades or plaid curtain panels are all stylish and contemporary options.
There are trims and notions that will add so much charm to a plain window topper or valance so much so that your plaid window treatments will be a stylish and sophisticated part of your home's decor.
Please visit our gallery to pick up lots of baby nursery ideas for plaid window treatments and bedding and to get information on how to mix and match popular fabric prints and patterns that will your decorating projects a professional and sophisticated look.