Pink and Green Baby Bird Nursery Theme with Free Printable Nursery Art
by JB
This lovely pink and green baby bird nursery theme has lots of decorating ideas for you with a bonus; FREE printable nursery art featuring a quote that every mom decorating a baby girl nursery will love.




The inspirational saying is one that, I believe, will build the self esteem of baby girls while adding to the room's décor which is something that every new mom and dad can appreciate.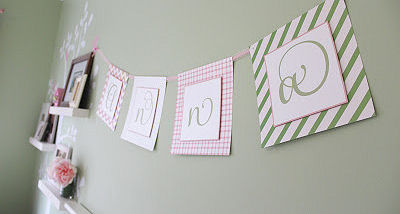 Go here to see more
sayings and Bible verses that can be used to decorate the walls of your daughter's room.
Before we move onto her nursery pictures, let me tell you a little bit about designer, Kara Huycke of Izzy Designs. Kara is not only an interior excellent decorator. As you will see from her artwork she also creates lovely graphics. She uses her skills to design paper products for brides, expectant mothers and a host of clients in need of such services.
Go HERE
to find the crib quilt with the bird appliques.
Birds are One of the Most Popular Baby Nursery Themes for Girls
For example, Kara can make letters for you in any size or color for a party, shower or a baby's nursery similar to this pretty banner in green and pink chevron stripes and checks. All you have to do is email her your ideas or nursery theme and she can make you a custom name banner or individual letters with your little one's initials.
This handmade canvas reflects the colors of the banner that spells Anna's name as well as the bird theme of the nursery. The polka dots add fun and another shape into the space.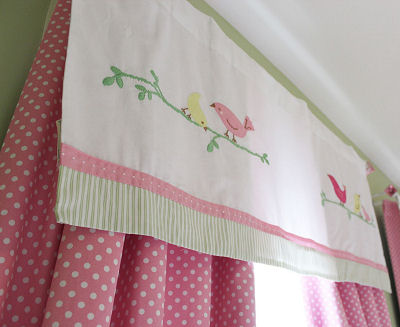 Nursery Window Treatments
The winning combination of stripes and polka dots is seen again in the nursery curtains. The crisp, white window valance with sweet, birdy appliques has a fresh, striped border. I love how the topper brings many decorative elements together in one area. This is proof that the subtle details are what make a design visually pleasing. See the tiny dots on the pink band above the green and white stripes? They repeat the pattern of the curtain panels as well as the background of the homemade canvas on display and effectively balance the
pink and green nursery
's decor.
An elegant silhouette of an expectant mother in an elegant oval frame is hung by a pink, satin ribbon on the door to the side of the changing area.
Family photos on floating shelves nestled among the branches of the tree wall mural add a personal touch to Anna's
baby bird nursery
.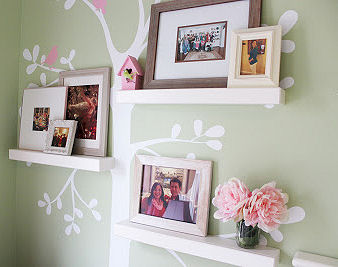 And now a gift to you from
Izzy Designs
; free printable pink and green nursery art designed by Kara.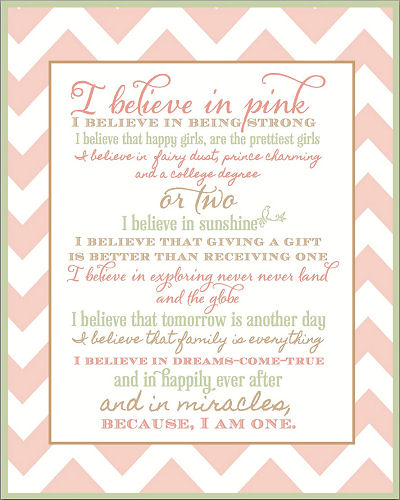 Visit Izzy Designs to get instructions on how to receive your very own PDF print out to download and please don't forget to leave a comment telling her how much you enjoyed her feature on
Unique Baby Gear Ideas
and to thank Kara for the freebie!