Create Peter Rabbit Nursery Murals using Peter Rabbit Wall Decals and Stickers
There is more than one way to get Peter Rabbit nursery murals on the wall. You can buy some Beatrix Potter wall decals and do it yourself, take a few art lessons and paint your bunnies on the wall or buy some wallpaper.

Peter Rabbit Baby Quilts


Peter Rabbit Baby Bedding and Nursery Decor

Peter Rabbit Baby Shower Ideas

Beatrix Potter Nursery Ideas



Whether you decided to make do with a few wall decals or cover an entire wall with an enlarged picture mural right off the pages of your favorite Beatrix Potter story book, your baby's nursery will be so much better for having had the walls decorated with these famous characters.

PAINTING PETER RABBIT NURSERY MURALS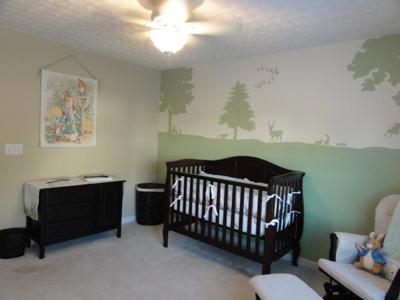 See More Peter Rabbit Baby Nursery Wall Ideas Here
You can get some ideas on how to paint your Beatrix Potter and Peter Rabbit nursery murals by going to the library and checking out the books. There are so many characters that it's going to be hard to choose which ones you like best but it would be better to choose an entire scene than individual Peter Rabbit pictures or just one of the pictures of Flopsy, Mopsy, Cottontail or Beatrix Potter. If you are decorating a Beatrix Potter nursery for your son, pick up some baby boy Peter Rabbit baby nursery ideas from pictures of the little boy bunnies in their baby blue jackets and from the girl bunnies wearing their old-fashioned aprons.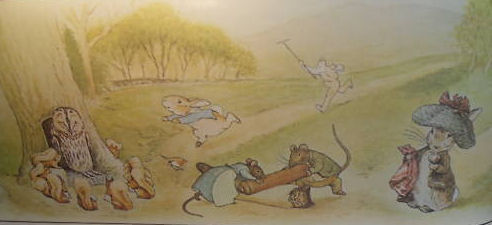 SEE MORE HERE
PATTERN
BPC16819W
STORYTIME
BORDER
WALL DECALS
Please wait to decorate your nursery walls until after you have selected a Peter Rabbit nursery bedding set so that you can be sure that your paint colors will match the colors of the crib set's fabric.
I would also consider it a favor if you would take some pictures of your Peter Rabbit nursery mural and come back to share your ideas with us!