Out of This World Nursery Wall Murals
by Jan
I found some absolutely out of this world nursery wall murals that I want to share with all of you. Before you go any further, I should warn you that the artwork created by Jason Hulfish is not something that most of us could ever dream of doing ourselves; the sculptures and paintings that you see in the following pictures are not projects that the average (or even above average) DIY decorator will want to tackle. But..no worries, if you decide that you want your baby's nursery to have a jungle mural complete with creatures right out of Jurassic Park, Jason's contact info will be provided.



I love the idea of a realistic dinosaur nursery theme filled with prehistoric creatures (in 3D, no less!) but for those of you who find those big teeth more than a little scary, Jason also does custom nursery murals of a more traditional, yet just as jaw-droppingly amazing, as the one with the giant gorilla (King Kong?) and T Rex.


I've decorated many a
circus nursery theme
with clowns, circus tent ceilings and once even a circus train complete with animals but never have I seen a more detailed circus theme wall mural.
The circus clowns' faces are painted with such happy expressions and the elephant standing on his lavender and yellow stand is a super opening act! I can almost hear the cheers of the crowd in the background and smell the popcorn! All the atmosphere without the sawdust. Nice!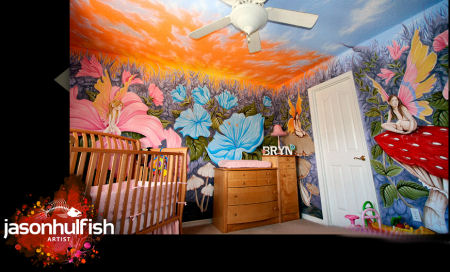 We're all familiar with fairy tales and nursery rhymes as well as storybook characters like Tinkerbell but the artwork in this
fairy baby nursery
depicts a fantasy that is reminiscent (only brighter and bolder) than Mary Cicely Barker's flower fairies.
The
dragon baby nursery
theme is especially popular for baby boys. Jason's depiction of medieval knights in armor engaged in battle against flying and fire breathing dragons gives us a hint of the hard work involved with rescuing a damsel in distress from the castle tower.
Please note that the walls as well as the ceiling of the room are covered in beautifully painted scenes.
And speaking of princesses being held captive; I can't imagine that even the most royal of maidens would have complaints about being a prisoner in this storybook castle that's ideal for the walls of a
baby princess nursery
.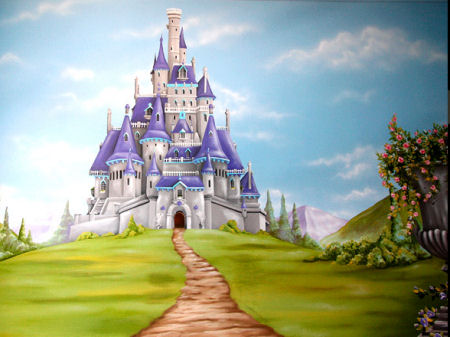 The pictures of custom
nursery wall murals
on this page are just a small sample of the interest and charm that
mural artist, Jason Hulfish
, can bring your
nursery decorating ideas
to life in a
BIG
way!
If your decorating goal includes the creation of a space with personality plus, please visit Jason's website and view the slideshow featuring large photos of his artwork. Whatever your concept, I'm sure that this artist will over-deliver and leave you with OOAK wall art that is sure to impress.