Mother Goose Baby Nursery Rhyme Theme Ideas and Room Decor

The Mother Goose baby nursery rhyme theme provides limitless inspiration for a variety of themed baby rooms, color schemes, crafts and DIY decorations.  The characters from the "Hey Diddle Diddle"  nursery rhyme alone with the cat and the fiddle and the famed cow that jumped over the moon alone provides some excellent decorating and craft ideas.

There are several choices for parents taking a gender specific approach towards decorating a room for a baby boy or girl.
Little Boy Blue and his horn are an excellent starting point for a baby boy's room and Little Miss Muffet would be an adorable subject for a wall mural painting in a baby girl's room.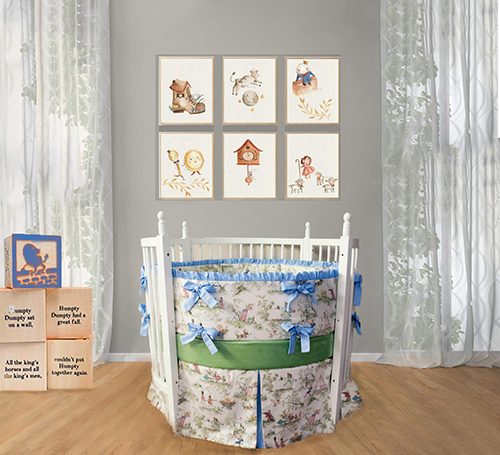 Go here to see more nursery rhyme themed baby room
ideas featuring crib bedding sets and decorations.
Fabric panels that can be used to make your own Hey Diddle Diddle nursery rhyme baby bedding sets are easy to find and will work for both the Hey Diddle Diddle or Twinkle Twinkle Little Star themes.
A List of Mother Goose Nursery Rhymes and Others
Go
HERE
to see a complete list of nursery rhymes to get quotes and ideas for wall painting and crafts using the words and sayings included in these classic poems.
If you have a stash of fabric already on hand, here is a
FREE Mother Goose baby quilt pattern
that can be used as a wall hanging or crib quilt.
Parents decorating for fraternal twins might get some tips from the story of Jack and Jill. Imagine a painted mural featuring a flower covered wishing well at the top of the hill as well as Jack and Jill tumbling down the hill spilling their pail of water.
The atmosphere of any room can be enhanced with artwork featuring cats playing fiddles, black and white spotted jersey cows and twinkling moons and stars. These images are not exclusive to any particular sex or gender and baby will love being surrounded by the colorful animals that mom and dad read to him just before bedtime.
Nursery Rhyme Wall Stickers
Decals and cut outs of characters are popular decorations for the nursery walls taken directly from the pages of traditional children's nursery rhymes. The images are excellent illustrations of the lessons taught in the children's bedtime stories.
Nursery Rhymes Posters and Room Decor
Get CHEAP Mother Goose pictures for the nursery wall buy visiting a thrift store and buying old copies of damaged nursery rhyme storybooks and salvage some of the beautiful vintage artwork by cutting out and framing the pages for the baby's wall.

A wishing well that looks like the one where Jack and Jill got their water would be cute in the corner of the nursery and can be used as storage for toys. A stone wall painted on the wall with a cracked egg on the ground will illustrate why playing on the wall is not a good idea for children and why to do so was not one of Humpty Dumpty's better ideas.

Unique Baby Gear Ideas has many more craft ideas with suggestions for accessorizing baby's bedroom with nursery rhyme themed baby gear along with some DIY baby decorating projects!