Nursery Rhyme Baby Bedding
by Angel
Nursery Rhyme Theme Toile and Green Gingham Baby Nursery Crib Bedding Set
I bought my nursery rhyme baby bedding set used! The price secondhand almost seemed too good to be true and I was afraid that the crib set would be a disappointment but being as it was dirt cheap and the seller had a high rating, I thought, why not take a chance?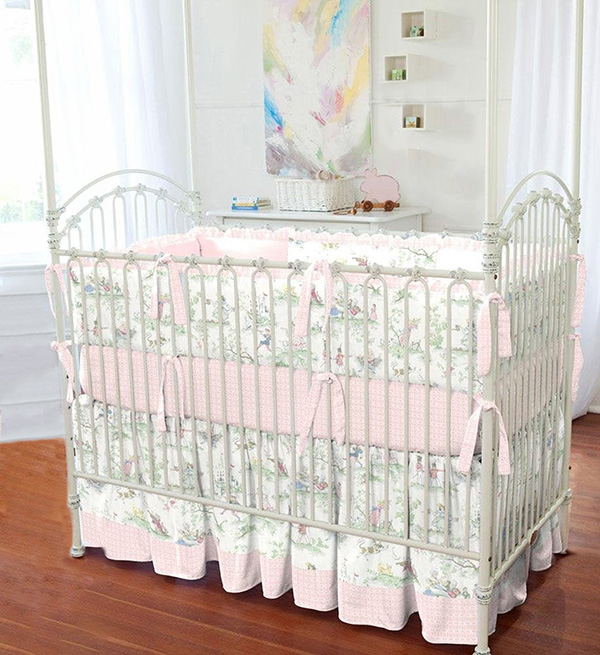 Go here to see more
The worst case scenario was that it would have stains that didn't show in the pictures. My thoughts were that if this happened, I could just cut it up and use the nursery rhyme print fabric to make a crib quilt to get my money's worth.
Then the package came and I could hardly believe my good luck! The only piece of the nursery bedding that showed the least bit of wear was the fitted crib sheet and even that was in what I would call "good used condition".
The toile fabric part of the
nursery rhyme baby bedding
has pictures of Humpty Dumpty and all the king's soldiers, the characters from Hey Diddle Diddle including the cow that jumped over the moon and the cat and the fiddle, fairy castles and more so the set would be usable for a baby boy's nursery or a baby girl's although the green gingham trim (to me) will look especially nice in a baby boy's room which is exactly what I am expecting!
From the webmaster:
Wow, Angel, you DID get a cute crib set and you say it was cheap, too? I'm always glad to hear when a mom gets a great deal on their nursery decor. I hope that when you get everything in place that you will stop by
Unique Baby Gear Ideas
again soon to share more of your photos.