Nautical Gifts Ideas for Baby Showers and Kids Birthdays
We have some unique suggestions for nautical gifts for babies. These items will make a lovely arrangement in a newborn baby shower gift basket that any sailboat and ocean loving expectant friend will appreciate.


If the mom-to-be is decorating a nursery in preparation for the birth of an infant, we have some tips on nautical decorations that will decorate baby's room. The lucky newborn's nautical themed nursery will be shipshape and ready for the little one to come aboard.


We have ideas for nautical gifts for babies as well as gift lists in other themes
.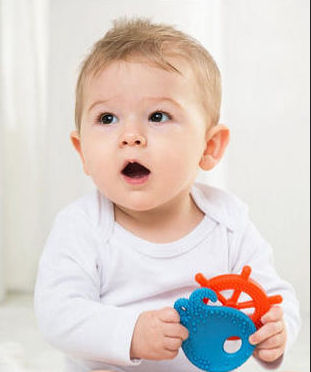 Go here to see
the huge number of positive reviews that the nautical baby teethers have received.
Nautical theme baby gifts come in a broad range of motifs and designs that we can work with. It also helps if we can get a peek or a preview of the baby's nursery so that we can get an idea of what style of nautical decor is in place as well as what the color scheme might be. If there is really no way to get this information ahead of time, there are other routes to take that won't interfere with the nursery design and still stay in keeping with even a sailing or a naval theme.



Nautical Quilts
Mariner's compass baby quilts are one of my favorite nautical gifts for a baby shower. For a homemade crib quilt some sewing skill and knowledge of quilting is involved. For those of us who don't know a quilt pattern from a yardarm, there are ready made lap quilts in nautical themes in the baby boutiques that can be draped over the back of the nursery rocker as a decoration so the pattern of the quilting fabric will blend nicely with the nautical theme baby bedding.
Nautical Baby Clothes
Who hasn't had a picture taken while wearing a navy blue and white sailor suit or sailor dress when they were a child? No matter what the age or size, every little boy and girl should have a sailor outfit at any given time.
Nautical Baby Care Items
Every bit of equipment that is required in the day to day care of a child might be considered as a gift. You can buy everything from baby bibs to pacifiers with anchors, sailboats and ship's flags printed or hand painted on them.
Nautical Baby Jewelry
For moms who pierce their little one's ears very early, a nice pair of gold anchor earrings would be treasured for generations. A charm bracelet with a ship's steering wheel, a compass or an anchor would be a lovely gift for a new mother.
If you know the exact baby bedding collection that is being used to decorate the baby's bed and which nautical accessories that mom put off buying until they were on sale at a discount; jump in and buy the matching nautical table lamp or mobile to complete the nursery's nautical design. However, if you don't have this information, we hope that you will consider our nautical baby shower gift ideas that will fill your baby shower basket with cute items that won't interfere with the rest of the nautical decor.
Return to Unique Baby Gear Ideas to see more nautical gift ideas for babies.