MODERN GENDER NEUTRAL NURSERY
by Amy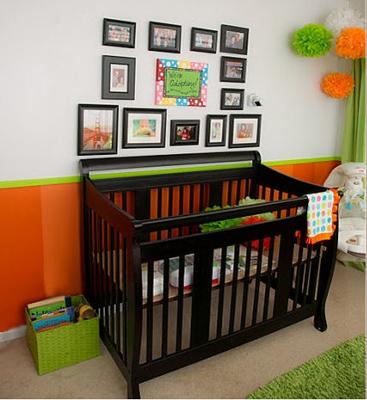 Modern Gender Neutral Black, Orange and Lime Green Baby Nursery!
All of the decorative details in our modern gender neutral decor were based on one special piece of fabric.

THE INSPIRATION FOR OUR NURSERY DECOR


I designed the whole room around the orange and white polka dots of the fabric that I used to make the crib bumper. Once I found that special fabric during one of my trips to the fabric store I used it as my inspiration piece for the whole room. My aunt made the bumper and added lime green ties to it. That's where the bright green accent color comes into the
orange and green nursery
color scheme.
I searched for awhile for the perfect fabric for the changing pad cover. At first I thought about using traditional minky baby fabric that is popular, but then I found the lime green giraffe print fabric and knew it would be a perfect fit for our
modern gender neutral nursery
ideas! We put elastic the bottom and it was a perfect fit for the changing pad!
ORANGE STRIPED NURSERY WALL PAINTING TECHNIQUE
I don't have the names of the paint colors, but I basically what happened was that I found two different shades of orange that I liked. One of the colors was a little darker and brighter and the other was one shade lighter and we alternated them to paint the stripes below the wooden chair rail.
ORANGE on ORANGE STRIPE WALL PAINTING TECHNIQUE
We measured the height of the painted stripes all the way around the room to ensure it was an even cut! Then we taped off each stripe using those measurements.
We first painted the whole area using the lighter orange color paint. After the base coat dried we went back and painted every other stripe using the darker orange color.
The entire process took 1 coat of paint and only about 4 hours including measuring, taping and painting. My husband got the chair-rail for free so he put that above the stripes and painted it green!
ARTWORK
The artwork in our nursery has a double meaning. Since we don't know if we will get a boy or girl, I knew I couldn't put a name on the wall like you see in most nurseries.
So instead I found this
gender neutral nursery
artwork in an Etsy shop and asked the owner to customize it for me. They are the initials that we plan to use for our baby's name whether it is a boy or a girl;). Each of the initial prints is hanging by a clothes pin on a wire.
FAMILY
Family and photography is very important to me. We announced our adoption through the "We're Adopting" canvas and the canvas is very important to us so I knew from the beginning I wanted that to be a part of the room's decor.
I bought the black frames from various places (all for under $45) to make an arrangement surrounding the canvas. We made sure to put pictures of all our family in the room including grandparents that are no longer living.
Our baby's modern gender neutral nursery theme is no different than the rest of our house; we have pictures everywhere!
NURSERY FURNITURE
The room that we tagged to be our baby's room is actually our guest bedroom and it already had black furniture so we got a black crib for the baby!
The very old nursery dresser was my dad's dresser when he was a little boy and it was passed down to him from his grandmother. My husband stripped off the old paint color and we painted it black to match the rest of the furnishings. This is a very special piece to me considering that it was my dad's!
MY MODERN BABY NURSERY DECORATING IDEAS
I wanted something different for our baby, not your typical light green and yellow color scheme. The main nursery colors are lime green, orange and white but even those colors aren't exactly identical since I tried not to be too matchy matchy. Decorating a baby's room is so costly and my goal was to design a cute nursery while staying within budget. And I made it! The total spent in the nursery on decorations and the crib was only around $300!
Since we are adopting and we don't know the sex of the baby yet but I believe that the room we have ready will be perfect regardless whether we get a baby boy or girl.
From the webmaster:
I'm loving the bright, cheerful colors! What you've done with the lime green and orange color scheme will inspire more moms to jump in and introduce this lively color into their nurseries. Thanks for sharing your nursery pictures and I hope that you will be dropping back by to show off your baby pictures soon!