Making Memories
Keeping Precious Mementos of Baby's First Years
by Making Memories
(Colchester, United Kingdom)
Moms and dads are so caught up making memories during baby's first few years that they have little time to preserve them. The artwork produced by a new company called (what else?) "Making Memories" provides new parents with a unique and decorative way of capturing some of the precious fun and mementos from when your child is tiny so they will have them to look forward to as they grow up.



Scrapbooking is another excellent way of preserving baby's memories.
Making Memories was started to help parents and their children have remembrances and keepsakes of all of the great activities and adventures that make childhood so exciting.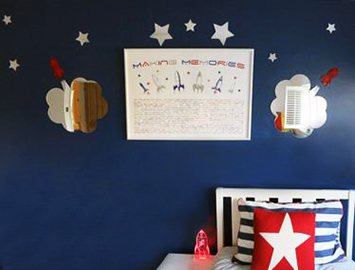 Rocket Ships Baby Nursery Artwork
by Making Memories
We enable you to customize the memories list so you can personalize things that are most important to you. This might include a family vacation to a special destination, cuddling with a special pet or the afternoon that the grandparents got soaked in a water balloon fight.
This piece makes a lovely focal point in a baby girl's princess nursery.
A princess castle, a sweet tiara and a beautiful gown are some of the graphics that surround this lucky little girl's childhood memories.
We have a long list of ideas that might be included in your Making Memories artwork so you will have lots to choose from. We hope that our suggestions will inspire you to think of your own experiences that will make your piece truly one-of-a-kind.
A delightful baby carriage, a bib, a onesie and baby footprints all pretty in pink are perfect for the wall of a little girl's room.
Childhood memories are printed in colors that have been coordinated with the décor.
All of our designs can be printed in a variety of different sizes and all come with a choice of frames and extras.
Finish your nursery, buy a gift for friends, or buy a Mini Making Memories for grandparents and family. Start building your Making Memories piece today.
For further information please visit Making Memories' Facebook page:
https://www.facebook.com/MyMemoriesUK/?view_public_for=901545149915886
Global shipping prices to be calculated at time of quote.
Unique Baby Gear Ideas
would like to encourage our visitors to make a list of special moments from their child's early years to include on their special creation. This is a thoughtful gift that will be treasured for many, many years.