MY FIRST KEEPSAKE BOOK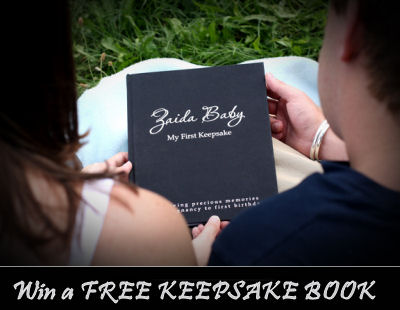 A BEAUTIFUL BOOK
At first glance, I felt a connection with Zaida Baby's My First Keepsake Book. I am a longtime fan of black and white photography and as webmaster for a baby website...well, there are times when I could use a mini-vacation from pastel baby booties and bunny rabbits. The simplicity and elegance I found in this book were a welcome refreshment and a pleasure.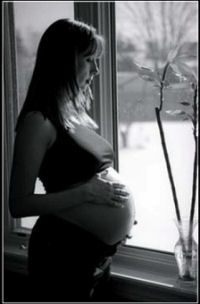 If it's elegance that you crave in a baby book, the black background and silver inscription on this lovely volume will not disappoint. And you can count on Zaida Baby's, My First Keepsake baby book to ease you into a thought provoking, emotional journey. My personal experience was that while thumbing through Sandy Jamieson's collection of maternity photos, I felt the thread that connects the souls of every woman who has ever loved a child reaching out and growing stronger with every page that I turned. And the beautifully worded promises that accompany each picture, from one word to a simple but meaningful phrase, will give every mother and father pause and an opportunity to take inventory of our purpose as parents.
The beauty as well as the practicality of the Zaida Baby My First Keepsake Book as far as organizing the memories of your newborn's first year. Beginning at the start of your pregnancy when the feelings are so fresh and new, this beautiful memory book provides a place to catalog your thoughts on becoming a parent and later to record your child's experiences from pregnancy to baby's first birthday.
So many baby books fail to address the emotional aspects of bringing a baby into the world. For instance, I know how old I was when I took my first steps and spoke my first word but how wonderful would it be to see in my mother's handwriting how she felt when she found out that she was expecting me or what might have triggered my first smile?
With the Zaida Baby Keepsake book, you are not only storing cherished dates and pictures but giving your baby the gift of knowing your heart.
Would you like an opportunity to win your very own ZAIDA BABY MY FIRST KEEPSAKE BOOK?
Sandy Jamieson, talented photographer and owner of Zaida Baby, has generously offered to sponsor a free baby memory book giveaway.
CONTEST ENTRY
Here's where you leave the information required in the giveaway's rules
VISITORS' OPINIONS, COMMENTS AND REVIEWS
Click below to see other entries
Making Memories
Keeping Precious Mementos of Baby's First Years

Moms and dads are so caught up making memories during baby's first few years that they have little time to preserve them. The artwork produced by a new …
Baby Keepsake Books Not rated yet
What I liked about the Zaida over other baby keepsake books is the elegant black and silver theme on the outside of the book. The design of the baby …
Baby Keepsake Book Not rated yet
A baby keepsake book like the one from Zaida baby is very unique and would be a treasured memento of our baby's birth. Besides the beautiful photographs …
Return to Unique Baby Gear Ideas to find more opportunities for new moms and dads to win free baby stuff!