Best Infant Halloween Costumes Ideas for Baby's First Halloween Clothes
We have collected ideas for the best infant Halloween costumes on the market. Ideas for homemade costumes or where to find cheap Halloween costumes has become second nature to me after years of dressing our entire family for Trick or Treating as a group. Infant costumes, toddler costumes; you name it and I've probably made my own homemade version or tracked down the best, cheapest style on the market and I'll share my ideas with you.

Visitors who stop by looking for baby Halloween costume ideas also enjoy these pages:

Baby Halloween Costume Ideas

Halloween Baby Shower Ideas

Baby Banana Costume Tutorial

Costumes for babies can be challenging because you have to be so careful that you don't accidentally introduce a choking hazard into the outfit in your efforts to achieve a certain look. Plus, you have to design something that will be eye catching, cute and that will stand out in a sea of kids. Here are some cool ideas for cheap infant Halloween costumes that I've either made myself or that I wish that I had thought of before the other moms on my street beat me to it.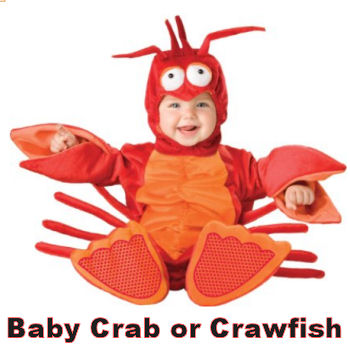 See More Like It Here
THE BEST BABY or INFANT HALLOWEEN COSTUMES
I have come to see that the most comfortable baby Halloween costumes are those that make good use of baby buntings as well as pajamas and gowns that you already have on hand. The advantage of using homemade costumes made from your child's own clothes is that you are virtually guaranteed that there will be a good fit, the fabric won't break baby out in a rash from allergies that you never dreamed existed (I could write a book compete with color pictures on this) and the seams are nicely finished so that they won't irritate and scratch your child's tender skin.
EASY INFANT HALLOWEEN COSTUMES You might say that there is nothing really funny or cool about a baby in a stroller wearing pajamas on Halloween and you are right. We have to come up with some additional decorations and embellishments to make our infant costumes into something extraordinary. Here are some ideas for homemade infant Halloween costumes where you can use footed pajamas, baby bunting and gowns in appropriate colors to create.
When designing your infant's Halloween costume you should first keep his or her safety in mind but after costume safety issues are taken care of, you will need to take the weather or temperature into consideration. A hot baby will not enjoy Trick or Treating nor do you want to risk making your child sick from lack of appropriate clothing.
Last but not least, the best infant Halloween costume considers baby diaper changes. Quick and easy unsnapping and zipping allows you to zip the wet or dirty diaper off and be back on the Trick or Treat or party trail in a jiffy.
Please make plans to visit Unique Baby Gear Ideas again soon to find the best baby Halloween costumes ever!
Share Your Baby's Halloween Costume Pictures
GIVE US ALL THE DETAILS!
Example: How old is your baby?
What is his or her given name?
Are there any details about her first Halloween that you'd like to share?
Tell us about the costume!
Did you make it or did grandma have a hand in it? We love stories that go along with the pics!

Adorable Halloween Costumes!
Click below to see the pictures of baby Halloween costumes submitted by other visitors to this page...

Fancy Baby Halloween Costume Ideas Not rated yet
Here are a few fancy baby Halloween costume ideas for those of you who refuse to take your infant Trick or Treating for the very first time dressed in …