Fancy Baby Halloween Costume Ideas
by JB
Here are a few fancy baby Halloween costume ideas for those of you who refuse to take your infant Trick or Treating for the very first time dressed in an orange onesie.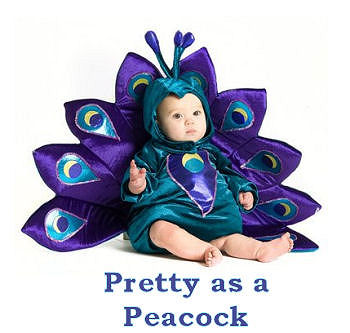 Go Here to See More
Baby's 1st Halloween ranks right behind Christmas and Easter as a primo photo opportunity and while pumpkins or cute animal costumes will always be popular; women will love the idea of dressing their baby girls in a peacock costume that comes with a headpiece that will frame their little sweetheart's precious face with feathers in vibrant colors. And as far as pictures to commemorate this momentous occasion, well, this outfit is a baby photographers dream.
If the night is chilly, add bright purple leggings, booties and a long sleeve onesie.
An eye-catching option for a baby boy would be a bright blue and yellow monster costume with striped horns and big, googly eyeballs!
To avoid scaring the little fellow; don't let him see himself in the mirror!
Comfort Features to Look For
Chances are that your infant will need a couple of diaper changes while going from house to house charming his or her way into a filled tote full of candy for mom and dad to enjoy later.
To keep things simple you should look for a costume that has sturdy snaps in the crotch to make taking the outfit on and off for diaper changing less of a challenge (read: pain in the butt).
What should you do if you find a really cool costume that has no snaps? Simply take it to your local cleaners or have your favorite seamstress sew snaps in it before the big day! This may not be a huge problem if you're only going to a house or two but spending a few dollars for this convenience is worth every penny if you plan to be out for the evening.
I hope that you have enjoyed these
fancy baby Halloween costume ideas
and that you will visit
Unique Baby Gear Ideas
and use the form on this page to upload pictures of your baby's 1st Halloween costume!