I Love Valentine's Day Crochet Baby Girl Ballet Slippers with Hearts
by Scarlet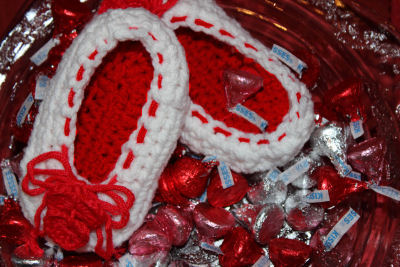 I Love Valentine's Day Crochet Baby Ballet Slippers with Crocheted Hearts
I love, love, love Valentine's Day! While my feet were up (swollen ankles, 3rd trimester of pregnancy) I had the idea to crochet baby ballet slippers with red hearts on the toes as a Valentine's Day baby gift to fill some time since I was finished decorating my baby girl's nursery AND to keep my hands busy to avoid the inevitable food cravings (that most likely contributed to the swelling of my ankles).

The shoes are a combination of an easy crochet baby ballet slipper pattern and crocheted hearts, one larger than the other, that I attached on the toe of each shoe.

I went by a Carolyn Christmas pattern to make these baby ballet shoes that is in an Annie's Attic book that I bought called "Precious Baby Booties". You could just as easily use this pattern that has a sweet ribbon ankle tie PLUS it's FREE!

As you can see from the pictures; I made the soles from the same red yarn that I used to make the hearts.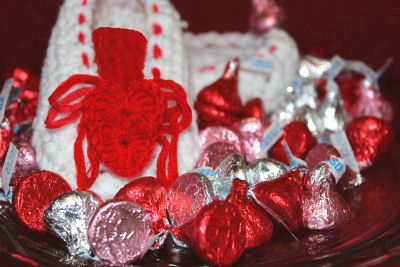 The Best Red Valentine Hearts Pattern
I went through several crocheted heart patterns before I made my "keepers".
The
first one that I tried
used the "magic ring" method which I was not familiar with. To learn how to crochet it; I watch the video recommended in the instructions. The hearts were OK but they just weren't as heart-shaped as I wanted.
Then I happened upon heart crochet patterns in two sizes (just what I was after) over at
Cornflower Blue Studio
. Since the hearts had to be tiny to fit on the toes of the ballet shoes; I had to practice.
After I had two large crocheted hearts and two small crocheted hearts; I paired them up.
How to Attach the Small Heart to the Large Heart
I attached the smaller heart to the larger one by pulling the tail of the small heart through the center ring or opening of the larger one and tying a knot.
TIP
You can tie it tightly to the large heart or leave a little slack (as I did on mine).
How to Attach the Hearts to the Valentine's Day Baby Crochet Ballet Slippers
I used a yarn needle to stitch the the larger heart to the center of the bow. If your pattern doesn't have a bow, you might just attach it to the center at the front of the opening.
I'm just starting to learn to crochet and love it! I'll be uploading pictures of a baby hat to add to
Unique Baby Gear Ideas
soon!