Ideas for 1st Valentine Gifts for Baby
We have some exciting ideas for 1st Valentine gifts for baby to share that can be included in a baby shower gift or included in plans for baby's first photo shoot! Cute Valentine's Day outfits like a pretty dress or onesies disguised as lollipops, a red pacifier and a cute Baby's 1st Valentine's Day card in a nicely appointed basket are sure to impress mom and dad.



Visitors Shopping for 1st Baby Valentine Gifts Also Enjoyed these Pages:

Red Baby Blankets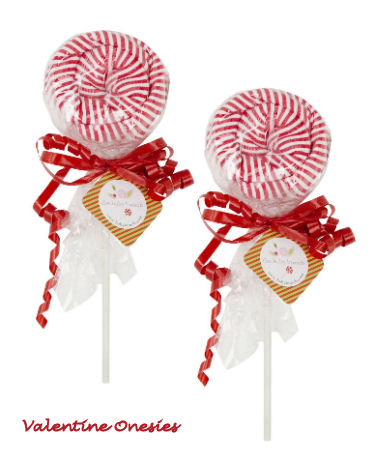 These cute baby onesie "lollipops" make adorable wrapping ornaments for your main baby shower gift or as a centerpiece for a Valentine baby shower gift basket.
Show your baby girl how much you love her with a new pair of baby ballet shoes that have red hearts on the toes!
A pair of ballet slippers with red hearts are a sweet Valentine's Day Gift for a baby girl.
A red onesie is just right for a baby boy or girl but this precious white onesie and baby socks with pink hearts is all girl!
The tiny diva will look amazing on her 1st Valentine's Day in the bodysuit embellished with shining pink sequins, matching socks and a pretty hair bow.
The weather on February 14th might (or might not!) be chilly..you just never know. A set of leg warmers or a gift box filled with socks covered in red hearts will keep baby warm in a festive way and will be cute with lots of outfits on Valentine's day and beyond!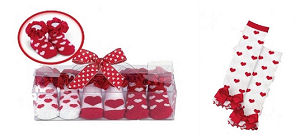 Go here to see
more cute baby socks and leg warmers for your infant's Valentine's Day photo shoot.
If it's baby's first, the best that you can hope for would be an appreciative drool which brings us to the next gift idea, a Valentine's Day baby bib.





Shop early so that you will have time to have the baby's bib personalized with his or her name or your favorite saying. If a traditional, bright red bib doesn't work with your
baby shower gift basket
color scheme, candy hearts in pastel colors is an excellent choice.
If baby is being baptized on or around Valentines Day, LUCKY YOU! What a wonderful opportunity to get a really special Valentine gift for baby! Your options for Valentine gifts for baby have just expanded! There are jillions of appropriate Baptism gifts for baby for you to choose for Valentine gifts for baby. Baby Valentine clothes are cute as pie and can be found pretty cheap! A child's baptismal gown is something that will probably be kept and cherished for a lifetime so this special Valentine's Day keepsake may be a little more expensive than some of the other Valentine gifts for baby.
Your Valentine gifts for baby don't have to be covered in cupids, hearts or other Valentine's Day motifs. Baby gifts in the shape of hearts are always nice, but not necessary to get the Valentine's Day message across. Valentine gifts for baby can be personalized and you can make them yourself!
Valentine baby clothes can consist of a pretty white out fit with one tiny embroidered red heart. Here's a unique idea for Valentine gifts for baby! Find a dressy white suit or frilly dress in white and embellish it with your own Valentine's Day decorations for baby. Any white lace out fit can be transformed into Valentine baby clothes for the cheap price of a little red embroidery thread.
Here are some unique baby Valentine gift basket ideas or to welcome a newborn home. If you are not into Valentine's Day embroidery patterns, a pair of red patent leather baby shoes is so cute for Valentine's Day for a baby girl! A little tape on hair accessory like a white lace rosette with a tiny red Valentine heart in the center would be a great addition to your ideas for a baby Valentine's Day baby shower gift.
Tuck in one of the free baby Valentine poems found in a book or on the Internet. Write the baby Valentine poem in calligraphy on a pretty card tied to the Valentine's Day baby gift basket handle for an especially beautiful Valentine's Day baby gift presentation.
Valentine gift basket ideas for a baby boy will be less feminine and lacy, but cute as can be none the less! Baby boys can get away with wearing white Valentine baby clothes just without the frills. The determined Valentine's Day enthusiast could possibly slip in a sweet red heart on the lapel of his festive Valentine's day suit. Believe me when I say he won't appreciate the extra embroidery when he's grown and looks at the portrait of himself decked out in pintucks, lace and little red hearts! Some Valentine gift basket ideas for boys would be a bright red wooden locomotive or dump truck for later or use for decoration in his choo choo train or construction nursery theme. Some other items that will help you create the best and most stunning gift basket for Valentine day would be some baby safe items that you can find in red such as:
Red Dinosaur
Red Elephants or Jungle Animals Teethers
Red Sesame Street Characters
A Valentine Keepsake Book or Handpainted Valentine Keepsake Box
You get the idea, the very best gift basket for Valentine's Day includes items that you can put in a Valentine or any baby gift basket that tie into their nursery theme and reflect baby's gender. It helps a lot if you can find your Valentine gift basket items in the cool Valentine Day color of RED!
When gathering your ideas for baby gift baskets for Valentine's Day, don't forget mom! A Valentine Day chocolate assortment in the gift basket will win you loads of points! There's no doubt that you will have one of the more unique and original Valentine gifts for baby at the shower.
Return to Unique Baby Gear Ideas to see more creative Valentine s Day baby gifts and decorating ideas shared by our visitors.